THE NEW LIMITED FORD RANGER STORMTRAK
Some storms in our lives are necessary because they destroy the negativity that's been piling up hence when you come out of the storm, you are never the same person. This Ford Ranger Stormtrak is one of those storms – once you drive it, you will never feel the same way again – At least that's how I felt.
The new limited Ford Ranger Stormtrak has been on sale in South Africa for a few months now and you might have seen it on our roads or being reviewed by seasoned motor journalists on different social media platforms, or on print and digital media platforms.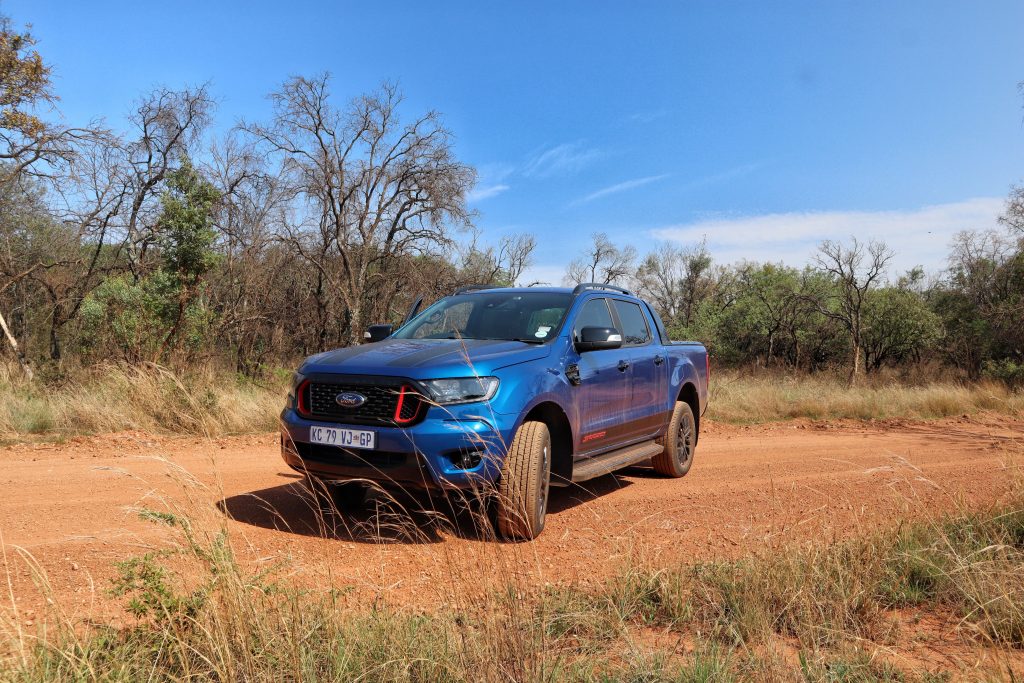 With the introduction of the New-Generation Ford Ranger, the attention might have slightly shifted from the Ranger Stormtrak however, I still wanted to get my hands on the attention-grabbing bakkie for an opportunity to compare it with the Ford Ranger Thunder which I reviewed earlier this year.
I had an opportunity to spend a week with the Ranger Stormtrak when I visited Johannesburg to attend the first ever South African Social Media Awards. Winning the Best Travel Personality Of The Year Award at the ceremony and getting an opportunity to test drive this beast made my journey to the city of gold more meaningful and special.
Just like the Ford Ranger Thunder, the Stormtrak is based on the premium Wildtrak model but it has its own distinctive personality, styling, and features that make it stand out. The Ranger Stormtrak is built tough and I would have done it injustice if I only drove it around the city, so I took a drive to a secluded farmhouse in Krugersdorp and Bela Bela to thoroughly test and enjoy it.
Thanks to Ford's SYNC 3 infotainment (full-colour 8-inch touchscreen radio with an integrated navigation system and voice recognition) that kept me entertained on the road.
The Ranger Stormtrak's comfortable leather seats with Alcantara on the sides, great fuel consumption, active adaptive-cruise control that slowed down the vehicle when I approached other cars on the road and accelerated it as soon as the road cleared and was safe to do so, and the lane keep assist also made sure the steering wheel vibrated every time I drove outside my lane or tried to change lanes without indicating – silly me! All these features made my journey safer and more fun, pleasant, and comfortable.
Bakkies are fun to drive but sometimes they can be impractical especially when you go on long distance trips with passengers and their luggage if your bakkie doesn't have a roller shutter in the loading bay.
Fortunately, the Ranger Stormtrak has an electronic roller shutter in the loading bay to keep your luggage and equipment secured and the adjustable divider ensures that your luggage doesn't move around in the back while driving.
You press button on the key fob twice to open or close the roller shutter door – This proved to be very convenient and practical, and it freed up the cabin space.
THE EXTERIOR
The Ranger Stormtrak is easily distinguishable by the black mesh grille with bright red inserts for the side air intakes giving it a more aggressive and sportier look.
Other exterior features include LED day running headlights, front fog lights, rugged underbody protection, distinctive red 3D Stormtrak badging at the base of the front doors as well as the tailgate, black functional roof rails, black decals on the bonnet and doors, black detailing for the side mirror housings, and 18-inch multi-spoke alloy wheels finished in gloss black.
The black standard moulded side steps also make the Ranger Stormtrak look aggressive but they are functional too, especially when you enter or exit the vehicle due to its high ground clearance (230mm).
THE INTERIOR
Open the Ranger Stormtrak front door and be welcomed by quality, luxury, practicality, and comfort.
The Ranger Stormtrak comes standard with full-colour 8-inch Ford SYNC 3 infotainment system with embedded navigation, Apple CarPlay, and Android Auto, quality black leather seats with Alcantara on the sides, red stitching, and the words "STORMTRAK" embroidered on back rest.
The luxury continues with the black leather and red stitching on the dashboard, hand brake cover, gear lever cover, and multi-functional power steering wheel.
Charging points include 2 x USB ports and 2 x 12V power outlets in the front under the auto climate control, 1 x USB charging port located on the rear-view mirror for the powering of dash cams or other electronic devices, and an AC converter 230V/150W power socket it the back.
THE FORD RANGER STORMTRAK CAN BE ORDERED IN FOUR COLOURS
The Ranger Stormtrak can be ordered in Sea Grey, Frozen White and Blue Lightning (Featured) exterior colours, or you could opt for the exclusive new hue, Lucid Red.
THE ENGINE AND FUEL CONSUMPTION
The Stormtrak is powered by the 2.0-litre Bi-Turbo diesel engine which produces 157kW and 500Nm torque paired to a 10-speed automatic transmission.
I averaged 8.6-litres per 100km with a combination of city, open roads, and dirt roads driving.
SAFETY FEATURES
Standard safety features include Active Park Assist (APA), which automatically steers the vehicle into a parking bay with you only operating the throttle and brake.
The Ranger Stormtrak also comes standard with back and front parking sensors, a rear-view camera, Adaptive Cruise Control (ACC) with Forward Collision Alert (FCA) fitted with emergency braking, and Lane Keeping Alert (LKA) and Assistance which vibrates the steering wheel when you drift out of the lane.
Other standard features include roll-over mitigation, trailer sway control, and Autonomous Emergency Braking (AEB) – an active safety system that activates a vehicle's brakes when a potential collision is detected. It works automatically without you actually stepping on the brake pedal.
You will be excited to also know that the Ranger Stormtrak features a smart keyless entry and lock, push-button start technology, Tyre Pressure Monitor System, central locking for passenger doors and tailgate, auto headlights, rain sensor wipers, and is fitted with seven airbags.
VERDICT
The Ford Ranger Stormtrak proved to be everything I expected and more – this bakkie has definitely left a special mark in my heart and I wouldn't mind owning it. Considering all the standard extra features, this is definitely value for money.
If you are in the market for a sportier, touch, and practical 4×4 workhorse, I would suggest adding the Ranger Stormtrak to your vehicle shopping list and/or booking a test drive at your nearest Ford dealership TODAY!
STARTING PRICE (DECEMBER 2021)
R775 200 – 2.0 Bi Turbo Double Cab Stormtrak 10AT 4×2
R832 660 – 2.0 Bi Turbo Double Cab Stormtrak 10AT 4×4
For more information regarding Ford, its products, prices, and Ford Motor Credit Company, please visit https://www.ford.co.za/ – or follow Ford South Africa on their social media platforms at https://www.facebook.com/FordSouthAfrica or https://twitter.com/FordSouthAfrica or https://www.instagram.com/FordSouthAfrica/ or https://www.youtube.com/FordSouthAfrica
All Ranger Stormtrak models come standard with a 6-year/90 000 km service plan with a 4-year/120 000 km warranty.
#FordSA #FordSouth Africa #Ford #FordStormtrak #Stormtrak #RangerStormtrak #FordRangerStormtrak
DISCLAIMER
This article may contain affiliate links. I may receive compensation if you make a booking through the links on this blog post but it won't cost you anything extra.
BLOG POST UPDATES
I update my blog posts regularly to make sure that links are up to date and spelling is correct. Let me know if you notice anything that needs to be updated in this blog post.
Are you a car brand and would like to collaborate with me?
Send me an e-mail at tebogo@westerncapeexperiences.com
You can find my other car reviews articles here.
For Western Cape travel inspiration and insider tips, follow me on Instagram or Twitter. Remember to subscribe to my blog to receive the best Western Cape insider tips and information, discount information delivered directly to your mailbox. Copyright © Western Cape Experiences – No words or photographs on this site may be used without permission from www.westerncapeexperiences.com
You May Also Like
March 29, 2023
September 18, 2022
August 26, 2022