FARM LIVING EXPERIENCE IN KRUGERSDORP – FARMHOUSE 58
December 21, 2021
Sometimes an escape from the busy city buzz to nature, quietness, fresh breeze, and the sounds of birds in the morning is just around the corner. Don't get me wrong, I love the city lifestyle and I am a city guy too however, sometimes I just need a quiet place where I can relax, recharge, connect with nature, and reconnect with my inner soul and FARMHOUSE 58 offered me all that and more.
We had the pleasure of spending two nights at FARMHOUSE 58. FARMHOUSE 58 situated in the heart of Cradle of Humankind in Krugersdorp, is an old dairy farm that has been converted into 21 Japanese Wabi-sabi inspired rooms offering accommodation to create consciously aligned mixed-use, multi-dimensional spaces that are foundational components of the greater 58 and NIROX ecosystem.
It's a place of serenity, comfort, and harmony ideal for nature lovers who just want to relax, connect with nature, and reconnect with their inner souls.
The overall décor and feel of the property show that FARMHOUSE 58 is grounded in nature by drawing inspiration from multiple diverse disciplines such as Japanese Wabi-sabi inspired décor and Ancient African settlements.
When we arrived at the farm, I made a mistake by driving up the hill through the farmlands until we reached the property. I missed the part on our welcome pack that explains that all cars must be parked at NIROX gate 3 and guests to utilise the inhouse shuttle to go up to FARMHOUSE 58.
FARMHOUSE 58 is an integral part of Project58, an ambitious multi-faceted program to create a unique place for connection in nature hence they maintain their strict policy for eco-friendly living and no petrol cars on the property to ensure that the land, plants, and environment are protected.
Project58 is still under construction but this will not affect your stay or overall experience at FARMHOUSE 58 because rooms, gardens, and the restaurant are complete.
Expect to see the plants and trees being planted by farmworkers recruited from local communities, vegetable gardens, and farmlands unfold, and the construction of the new restaurant, greenhouse, the sheds, chicken coop, and fitness centre across the property.
Seeing everything unfold in front of my eyes and imagining what the complete project will look like, was just a special moment to experience and I can't wait for my return. So go out there, explore your own province, be a tourist in your own city, create memories, and share your experiences with the entire world.
RATES AND ROOM OPTIONS AS OF 21 DECEMBER 2021
Take off your shoes and connect with nature as you step into your room with a design led by comfort and simplicity and guided by the environment and rich history of the area.
FARMHOUSE 58 consists of 21 naturally decorated rooms, 6 x premium rooms, 7 x deluxe rooms, 6 x standard rooms, 1 x family room, and 1 x twin room.
Twin room from 1890
Standard rooms R1890
Family room from R3600
Premium rooms from R2565
Deluxe rooms from R2250 (Featured)
Amenities in the en-suite rooms include a minibar fridge and coffee station or working desk and a chair.
RESTAURANT AND MENUS
The in-house restaurant situated in a beautifully built Lapa overlooking the farm dam offers a wide range of ever-changing, driven by the seasons, the weather and availability from local producers and own farm.
This means most of the meals on your place are always fresh but change with season and availability.
Breakfast, lunch, and dinner meals are served in the open-air covered Lapa, Boma area or by arrangement at your veranda or tables set in the garden.
EXPERIENCES ON THE FARM
Experiences on the farm include a Yoga session at the Acacia, a curated meditative hike through the 58 landscape, a walk to the waterfall, a breath-work session at the waterfall, and a sound bath at the Boule Court.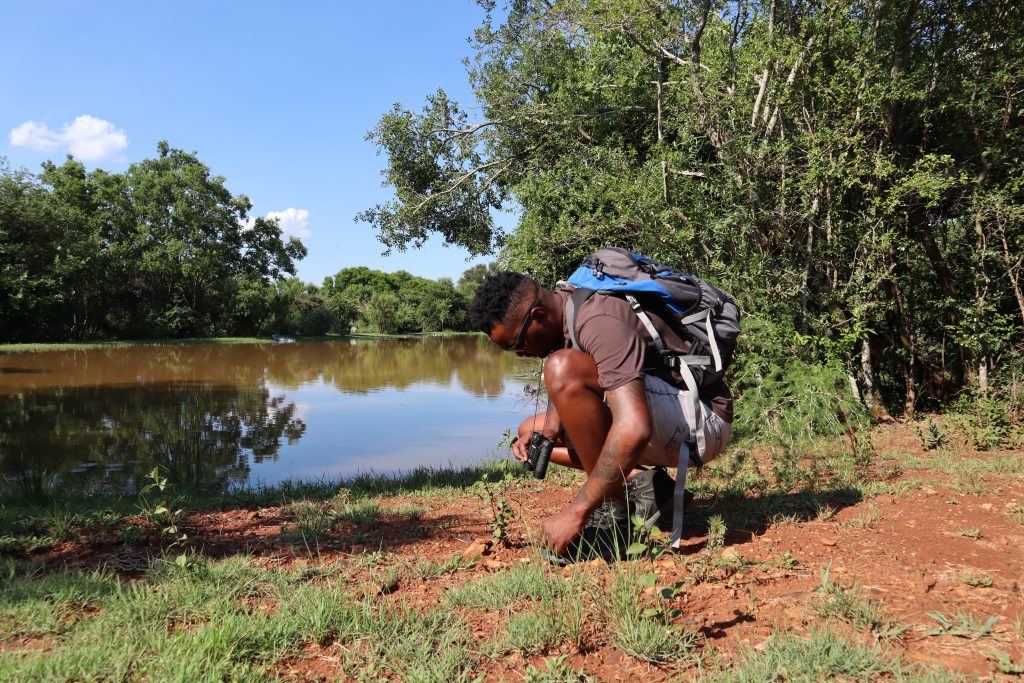 Please note that there is a swimming pool, Boma fire area, library, and communal lounge area where you can relax, read a book or catch up on your work.
For more information or to make a booking, contact FARMHOUSE 58 by e-mail at stay@farmhouse58.co or call: 0870929097
OTHER FUN EXPERIENCES AROUND THE AREA
Other popular fun experiences in the area include a visit to Cradle of Humankind World Heritage Site – Maropeng and Bothongo Rhino and Lion Nature Reserve.
A FEW THINGS TO NOTE BEFORE BOOKING WITH FARMHOUSE 58
Check-in is strictly from 15:00 – 17:00 and check-out is before 11:00
All cars must be parked at NIROX gate 3 and a shuttle will transport you up to FARMHOUSE 58. Shuttle times are between 8:00 – 17:00.
Pre-bookings for shuttles outside the shuttle hours can be arranged at an additional cost.
ENQUIRIES AND BOOKINGS
For more information or to make a booking, contact FARMHOUSE 58 by e-mail at stay@farmhouse58.co or call: 0870929097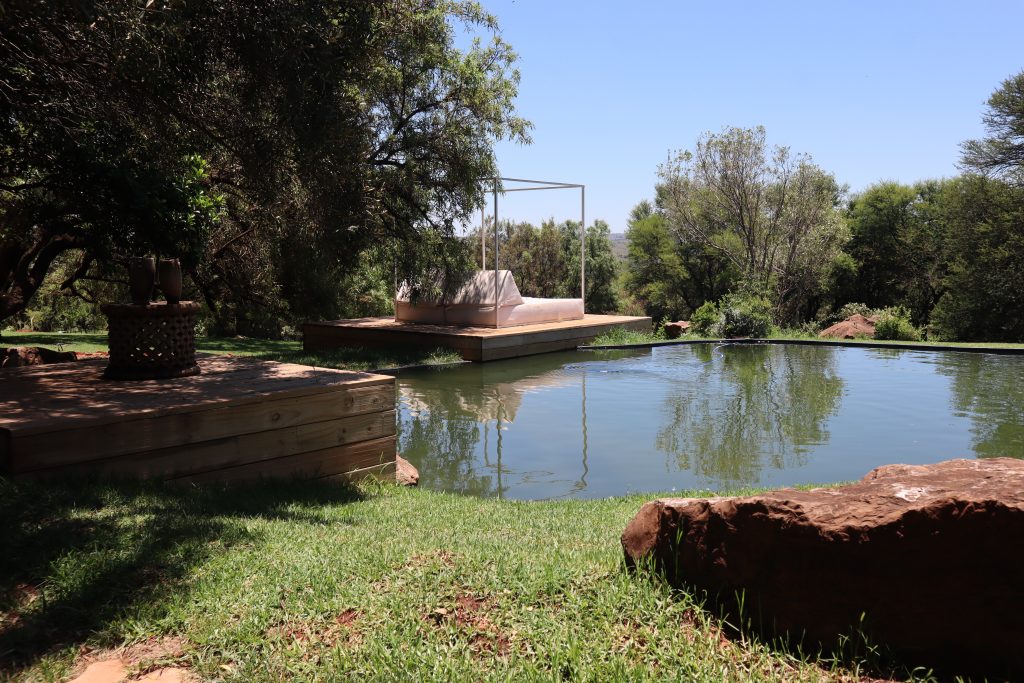 DISCLAIMER
This article contains affiliate links. I may receive compensation if you make a booking through the links on this blog post but it won't cost you anything extra.
BLOG POST UPDATES
I update my blog posts regularly to make sure that links are up to date and spelling is correct. Let me know if you notice anything that needs to be updated in this blog post.
Planning a trip to the Cape West Coast or anywhere around the Western Cape? Book flights, browse accommodation, hire a car, or purchase travel insurance. Alternatively, contact me at tebogo@westerncapeexpereinces.com/travel-planning and I will help you plan your adventure.
For inspiration and insider tips, follow me on Instagram or Twitter. Remember to subscribe to my blog to receive the best Western Cape insider tips and information, discount information delivered directly to your mailbox. Copyright © Western Cape Experiences – No words or photographs on this site may be used without permission from www.westerncapeexperiences.co
You May Also Like
March 16, 2021
February 14, 2021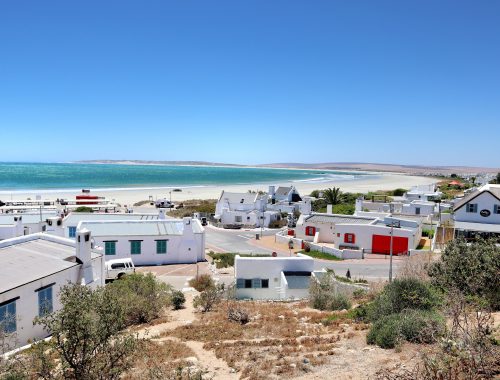 December 19, 2020