CORONA ISLAND – A PRIVATE PARADISE IN THE CARIBBEAN
I know Corona is a global beer brand that was born at the beach, surrounded by the ocean, and with a strong commitment to taking care of the ocean and eliminating single-use plastics, and they have adopted responsible practices that work in harmony with the natural world, however, owning an entire island is something many including myself didn't expect.
Yes! Corona owns an island in the Caribbean and it's called Corona Island. The brand invited a group of South African Content Creators, including myself, and several media houses to experience it before it was open to the general public and I am here to tell you all about it.
Corona Island is a private paradise in the Caribbean Sea off the coast of Cartagena, Colombia, where architecture blends in with the natural landscape. A place encapsulated by  warm turquoise sea and white sandy beach where you can enjoy fun experiences that will encourage you to unplug from the outside world and reconnect with nature. An island where you can be part of the Earth's rhythm while learning about the importance of nature, the ocean, and the sun.
Corona has created a paradise where you can experience the ultimate escape because life is best lived outside and away from screens. Corona is aware that the majority of people spend their time indoors working, stuck on the "hamster wheel" of life, and hardly ever getting a chance to relax or step outside. The island offers enjoyable activities and excursions aimed to bring guests closer to nature and reconnect with their true-selves. Whether you enjoy taking walks by the beach, sun-basking, scuba diving, snorkeling, swimming, playing beach volleyball, planting mangrove trees, bird watching, sunrise yoga, star gazing, kayaking, or just relaxing, Corona Island has it all.
Corona Island is a first-of-its-kind and plastic-free tropical and sustainable paradise for eco-tourism – something which I am passionate about. The island encourages guests to disconnect from the outside world and reconnect with nature by participating in different daily activities.
As a beer made with natural ingredients and born at the beach and the first global beverage brand with a net-zero plastic footprint, Corona partnered with an international Non-Profit Organisation Oceanic Global to create the first Blue Verified destination. This partnership ensures Corona Island operates with a minimal environmental footprint and adopts responsible practices that work in harmony with the natural world.
They have achieved Oceanic Global's three-star plastic-free Blue Seal for eliminating single-use plastic and adopting sustainable operating best practices at scale. From construction to energy production, food sourcing, and guest experiences on-site, sustainability is at the centre of every decision and touchpoint of Corona Island.
Sustainable tourism is something very close to my heart and I love the outdoors because that's my only way to really escape from the hustle and bustle of daily life in order to reconnect with nature and re-energise my soul while celebrating the authentic, simple, and beautiful moments in life spent outside.
So, when Corona sent me an invite to visit Corona Island, I didn't think twice about it, I wanted to experience it myself. I imagined myself waking up to a beautiful sunrise on a private island while surrounded by crystal clear turquoise water, then walking barefoot on a white sandy beach, breathing fresh unpolluted air, hearing the sound of waves gently crashing on the shore, and listening to the sounds of birds – That sounded like a real paradise to me.
I was one of the Corona Creator Network creators that were invited to visit Corona Island before it was officially opened to the public. Arriving on the island by boat after spending hours on four flights and in three cities – Paris, Bogota, and Cartagena, stepping on the white sandy beach, and feeling the warm waters beneath my feet, being welcomed by the friendly island stuff members, parrots and a toucan, and the sight of the bungalows, it's a feeling I will never forget – something I will cherish for the rest of my life.
ACCOMMODATION
There are only ten bungalows on Corona Island hidden perfectly between mangrove trees and each can comfortably accommodate two guests.
This means the island can accommodate up to twenty guests at a time so that eco-life is not compromised. Each bungalow has been built to guarantee the most incredible sunset views from the comfort of your room or the outside deck overlooking the ocean to compliment Corona's sunset ritual.  All bungalows have been fitted with an outside jacuzi and outside rain shower under the tropical canopies. [Click here to watch the room tour video]
ON CORONA ISLAND
Activities and excursions have been developed by Oceanic Global to ensure that there is a balance between relaxation and being active on the island. As the normal Corona ritual, we celebrated sunsets and sunrises every day on Corona Island.
Sunrise yoga is also one of the activities guests can enjoy on the island to set you up for the day and spa facilities to heal those aching muscles after a long day of activities . Other fun activities include star-gazing from the sunset deck (the nest) above the treetops, a tech-free zone that encourages you to disconnect from the outside world and reconnect with nature, planting mangrove trees to protect the coast, planting baby corals to help repopulate the reef, sun-basking, board games, scuba diving, snorkeling, beach volleyball, bird watching, and kayaking.
There is also an array of tropical birds and exotic animals on the island. You will spot friendly toucans, parrots, monkeys, indigenous turtles, iguanas, and a pool of baby sea turtles that have been protected before being released into the ocean. The birds were rescued from poachers and now live freely on the island.
Food and ingredients are sourced locally and are readily available on the island guaranteeing you the freshest and most flavourful dishes influenced by Central and South America.
We were also given an opportunity to not only learn more about the South American traditional food but to try cooking it too – an experience that made the group to interact with each other.
So if you ever look for a unique once-in-a-lifetime island experience away from the over-populated tropical destinations, then you should consider Corona Island because it might just be the ultimate escape destination you will ever need. For more information and to learn more about how to book a stay on Corona Island, visit https://www.livecoronaisland.com/
** Please note Corona Island will be opened to the public in 2023.
FUN FACTS
Since 1925, Corona has encouraged beer drinkers to seek out simple pleasures in places with a slower pace and a relaxed vibe. This philosophy has been embraced around the globe in over 180 countries.
Born in Mexico, Corona is the leading beer brand in the country, the most popular Mexican beer worldwide exported to more than 180 countries.
An estimated million tons of plastic waste enter our oceans annually. In 2021, Corona became the first brand to reach a Net-Zero Plastic Footprint, meaning that they recycle as much plastic as they consume.
No Corona is complete without the lime. Naturally adding character, flavour, and refreshment, the lime ritual is an integral part of delivering an experience that is truly unique to Corona.
A mangrove is a shrub or tree that grows in coastal saline or brackish water, and the oldest known fossils of mangrove palm date to 75 million years ago. Mangroves occur worldwide in the tropics and subtropics. Mangroves are salt-tolerant trees, also called halophytes, and are adapted to live in harsh coastal conditions. They contain a complex salt filtration system and a complex root system to cope with saltwater immersion and wave action. They are adapted to the low-oxygen conditions of waterlogged mud but are most likely to thrive in the upper half of the intertidal zone

.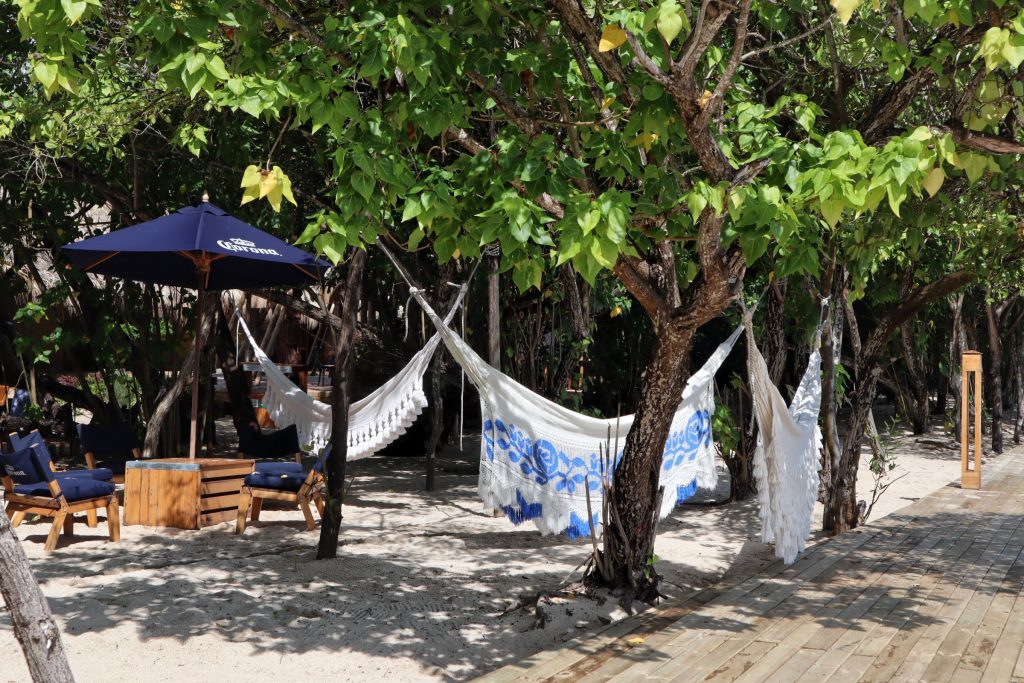 DISCLAIMER
This article may contain affiliate links. I may receive compensation if you make a booking through the links on this blog post but it won't cost you anything extra.
BLOG POST UPDATES
I update my blog posts regularly to make sure that links are up to date and spelling is correct. Let me know if you notice anything that needs to be updated in this blog post.
You May Also Like
April 3, 2021
June 17, 2021