FORD RANGER XL SPORT – 800M ABOVE SEA LEVEL
July 15, 2021
If you have been following my work within the South African travel space especially the Western Cape Province, you would know that I am passionate about exploring secluded picturesque small towns and villages around this amazing province. Some small inland towns and villages need an appropriate vehicle to be able to fully explore them. Unfortunately, my vehicle is not capable of taking on tougher terrains like gravel, rocky, muddy, and mountain roads however, I sometimes find myself pushing it to its maximum limits and facing a heavy repairs bill on my return home.
Ever since I heard about Daniel's Hoogte, a private Nature Reserve in Aurora on the Cape West Coast, I have been eager to go and explore it but I knew I needed a capable vehicle built for this type of adventure. Daniel's Hoogte Private Nature Reserve is a working farm rich in fynbos and situated at the top of Aurora Mountain, approximately 800 metres above sea level.
Fortunately for me, I had the opportunity to take the Ford Ranger XL Sport up the mountains through the country roads. When the guys from Ford SA delivered this workhorse to my home, I immediately knew I had to familiarise myself with the bakkie first and test some of its functions before beginning with the real adventure. It's like taking a lady out on dates for a few nights before deciding to ask her to be your girlfriend.
I decided to start my journey a few days earlier. I explored Port Owen Marina, Bokkomlaan, Laaiplek, Dwarskersbos, Draaihoek Private Reserve, and Aurora village. This gave me enough time to feel comfortable with the Ranger XL Sport and its features and to build up the confidence to drive up the mountains, 800 metres above sea level, especially during the winter heavy rainfalls.
EXTERIOR STYLING
I am a big fan of exterior black fixtures and trimmings on vehicles. I am happy that Ford South Africa decided to add exterior black details on the Ranger XL Sport by introducing a black package on their Single, SuperCab, and Double Cab arrangements XL Sport models.
You will easily identify the Ranger XL Sport with its gloss black front grille, 17-inch alloy wheels with meaty 265/65R17 dual-purpose tyres, black painted rear bumper, tow bar, black steel sports bar, and must-have optional black side steps to complete the exterior sporty look.
The Ranger XL Sport sits very high and the side steps made it considerably easy for me and passengers to get in and out of the bakkie.
INTERIOR STYLING
Even though the Ranger XL Sport doesn't come standard with leather seats or leather dashboard, the cloth seats and heavy-duty plastic dashboard and door panels still make this workhorse's interior look and feel great. I can confidently say the quality and comfort were not compromised.
The 4-inch non-touchscreen radio is standard in the XL Sport model, however, the one I drove came with optional 8-inch touchscreen infotainment capable of hands-free calling via Bluetooth connectivity and allows access to approved Apps via Apple CarPlay or Android Auto.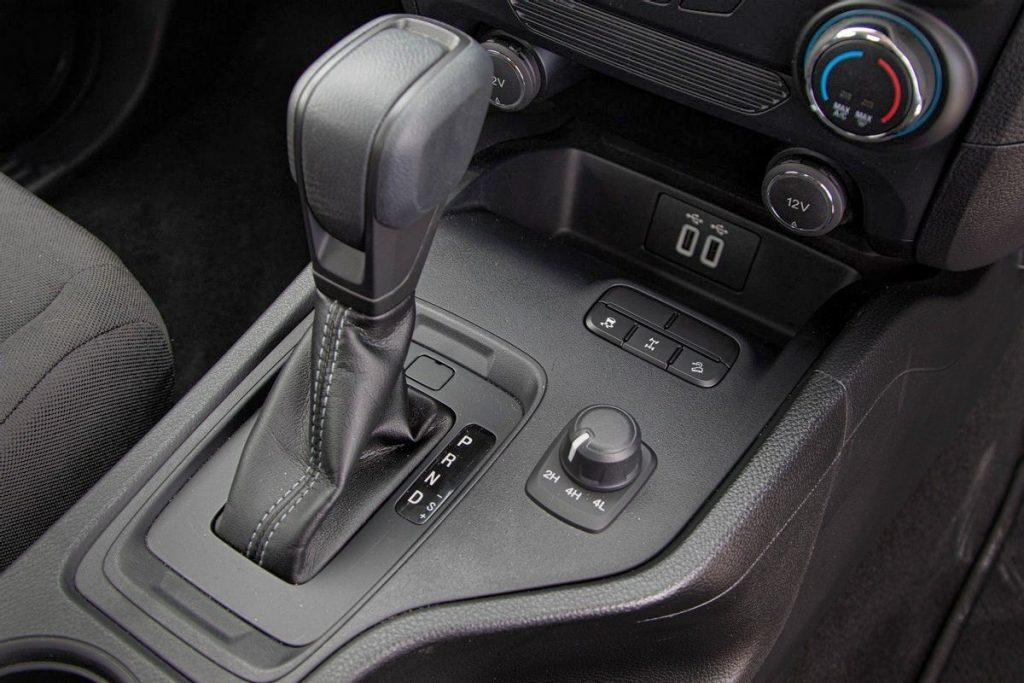 There are also two USB charging ports and two 12v sockets in the front.
OTHER FEATURES
Other standard features in the Ford Ranger XL Sport include a multifunction power steering wheel, front and back electric windows, electric mirrors, manual air conditioning, remote central locking and alarm, and daytime running lights (not LED).
SAFETY FEATURES
There are two airbags (driver and passenger), ISOFIX mountings on the rear seats. You also get electronic driving aids such as ABS brakes with Electronic Brakeforce Distribution (EBD), Hill Descent Control, and Hill Launch that came in very handy when I was driving up and down the Aurora Mountains because it helped the bakkie from rolling back on an incline while Roll-Over Mitigation, Electronic Stability Program with Traction Control and Adaptive Load Control ensured that the vehicle remained pointed in the right direction. Trailor Sway Control also comes standard on this model.
ENGINE, PERFORMANCE, AND FUEL ECONOMY
The Ford Ranger XL Sport packs a single turbo 2.2 TDCi 4-cylinder diesel engine under the bonnet, offering 118kW and 385Nm of torque. This power is transmitted through a 6-speed manual or 6-speed automatic gearbox (the one I drove). The bakkie felt heavy when it moved from a stationary position especially at the traffic lights, so don't expect to always be the first one off the line when the light changes to green or if you were at a stop sign. One thing I realised about the Ranger XL Sport is that it performs very well on open tarred roads and gravel roads. I am not surprised by the latter because that's its playground.
Ford South Africa claims the Ranger XL Sport would do 8.2 litres per 100km however, I only managed to average 9.6 litres per 100km on open roads – but my speed was never constant due to lack of cruise control function and I sometimes had to rush to the next town so, that might have affected the fuel efficiency a bit.
COLOURS
The Ford Ranger XL Sport comes in six different colours:
Race Red
Frozen White (The one I drove)
Sea Grey (Metallic*)
Blue Lightning (Metallic*)
Diffused Silver (Metallic*)
Moondust Silver (Metallic*)
*Metallic body colours are options at extra cost.
PRICE
The Ford Ranger XL Sport 2.2 TDCi double cab 4×4 currently starts from R573 800 excluding optional extras mentioned in this article. This model is sold with a 4-year/120 000km comprehensive warranty, 3-year/roadside assistance, and 5-year/unlimited km corrosion warranty. A 6-year/90 000km service plan is also included for additional peace of mind.
VERDICT
Sometimes all you need is a tough workhorse without all of the leisurely features however, I still feel like the Ranger XL Sport should have came standard with a cruise control function for those long journeys. With such a high and long vehicle, one would expect it to have parking sensors, a rear-view camera, and maybe a park assist function. I struggled a bit for few hours on the first day especially when I tried parking around the city and when entering or exiting basement parking spaces. However, as soon as my brain adjusted to the length of the bakkie, it became a breeze to maneuver around tight spaces. One optional feature I would pay extra for is the lockable roller shutter door on the back. I realised that our bags occupied the entire rear seats and it could have been a problem if we had other passengers on the back seats especially when travelling long distances with travel bags.
For more information regarding Ford South Africa, its products, prices, and Ford Motor Credit Company, please visit https://www.ford.co.za/ – or follow Ford South Africa on their social media platforms at https://www.facebook.com/FordSouthAfrica, https://twitter.com/FordSouthAfrica
https://www.instagram.com/FordSouthAfrica/ or https://www.youtube.com/FordSouthAfrica
#FordSA #FordSouthAfrica #Ford #FordRanger #RangerXLSport #RangerXLSport #RangerSportXL #BuiltFordTough #LiveTheRangerLife
DISCLAIMER
Some of my articles contain affiliate links. I may receive compensation if you make a booking through the links on this blog post but it won't cost you anything extra.
IMPORTANT UPDATE
Some businesses may revise their operating hours and menus due to the season and COVID-19 pandemic. Other businesses may close, either temporarily or permanently without notice. Please check their websites for updates and book well in advance.
BLOG POST UPDATES
I update my blog posts regularly to make sure that links are up to date and spelling is correct. Let me know if you notice anything that needs to be updated in this blog post.
Planning a trip to the Cape West Coast or anywhere around the Western Cape? Book flights and browse accommodation or hire a car now to get the best rates. Alternatively, contact me at tebogo@westerncapeexpereinces.com and I will help you plan your adventure.
For inspiration and insider tips, follow me on Instagram or Twitter. Remember to subscribe to my blog to receive the best Western Cape insider tips and information, discount information delivered directly to your mailbox. Copyright © Western Cape Experiences – No words or photographs on this site may be used without permission from www.westerncapeexperiences.com
You May Also Like
March 19, 2021