10 PLACES TO VIEW SPRING WILDFLOWERS ON THE WEST COAST
July 26, 2021
One moment the landscape is brownish with nothing interesting to look at, and then another moment the entire landscape transforms into a bed of colourful spring wildflowers, and before you know it, they are all gone again!
That's one special thing that happens around the arid areas of the Cape West Coast and the semi-desert of Namaqualand each year between the months of August and September. This is a magical time along the pristine West Coast when almost every coastal town and inland village, mountains, and fields are ablaze as endless kaleidoscope of spring wildflowers burst, almost simultaneously, into full bloom. The natural phenomenon of wildflowers season along the Cape West Coast in the Western Cape draws thousands of visitors including photographers, artists, and botanists from around the country and from around the world between the months of August and September each year.
These spring wildflowers begin blooming first in the north in Namaqualand in late July or early August and then roll out southwards, through Nieuwoudtville and the Cederberg towards the West Coast until the end of September.
TIP: Try to approach the wildflowers from the north because, in spring, the sun is in the north. The wildflowers only come out in the sun and always face the sun. So, take an early drive up the north and then drive back slowly down south for a full experience.
However, if you plan to experience this spectacle around mid-September, then don't drive all the way to the north because it will be too late for the north and the action will be around the south of the West Coast in areas such as Postberg in West Coast National Park, Darling, Paternoster, Langebaan, etc.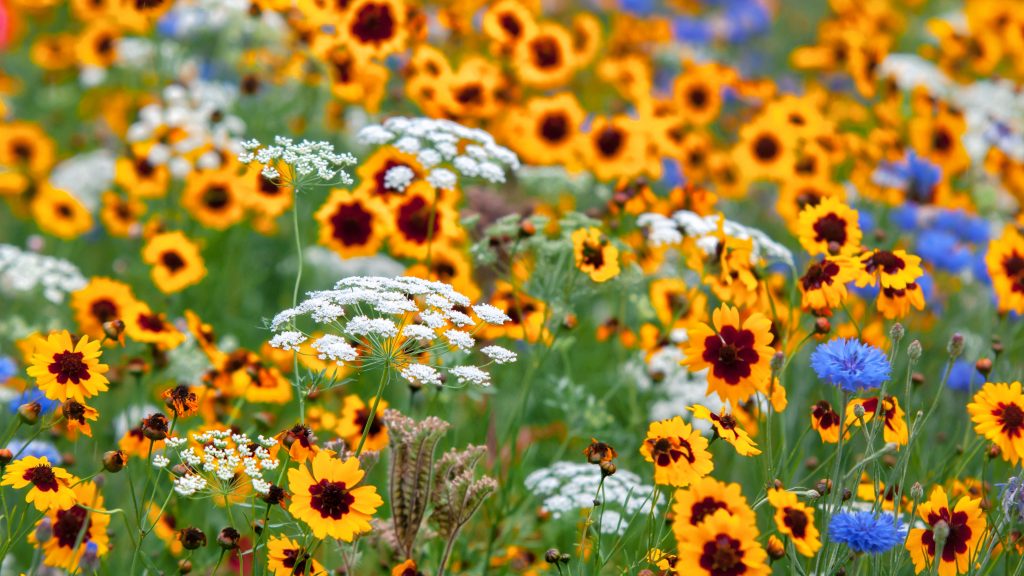 There are many areas around the entire Western Cape where you can experience this natural phenomenon. If you are planning to drive yourself this year, I have shared my top 10 spring wildflowers hotspots on the Cape West Coast that you should check out. We had a great rainy season and this year promises to be one of the best spring wildflowers seasons. All places are easily found on Google maps for your convenience and some reserves charge a reasonable entrance fee from as little as R17 per adult.
Please note that I have also included some accommodation options should you plan to spend a night or two in any of the towns or villages.
1. THALI THALI GAME LODGE
Two for the price of one! Enjoy a Game Drive and view spring wildflowers in their full bloom.
Thali Thali Game Lodge contains an extensive (and important) area of the Saldanha Flats Strandveld. There is a showy display of bulb plants and annual herbaceous plants in the spring. The Strandveld covers all of the property except for the cultivated cropland and grazing pasture areas. The entire area becomes alive with colourful spring wildflowers during the months of August and September.
Game on the property includes Eland, Oryx, Sable Antelope, Black Wildebeest, Giraffe, Kudu, Bontebok, Springbok, Burchell's Zebra, Duiker, Dromedary Camel, Steenbok, Ostrich, Porcupine, Fox (Cape and Bat-eared), Caracal, Scrub Hare and "Dassie", Striped Mouse, Angulated tortoises, Snakes (Mole snake, Cape Cobra, Puffadder, etc), and numerous plants, reptile and insect species.
Floral expectations: Strandveld and numerous plants
Distance from Cape Town: 120km
Where to sleep: Thali Thali Game Lodge
2. BLAAUWBERG NATURE RESERVE (BLOUBERGSTRAND)
Known as the official southern beginning of the Cape West Coast flora, the Blaauwberg Nature Reserve has spectacular views across the cityscape and coastline where you can see two World Heritage Sites – Table Mountain and Robben Island.
Floral expectations: Three very threatened lowland vegetation types: Cape Flats Dune Strandveld, Cape Flats Sand Fynbos, and Swartland Shale Renosterveld.
Distance from Cape Town: 23km
Where to sleep: Blaauwberg Beach Hotel | Belle Maroc
3. COLUMBINE NATURE RESERVE (PATERNOSTER)
Columbine Nature Reserve is situated in Paternoster. This reserve offers spectacular views of the spring wildflowers and an opportunity to spot whales and dolphins.
Floral expectations: Fynbos and Karoo Succulents.
Distance from Cape Town: 166km
Where to sleep: Gonana Guest House | Strandloper Ocean Boutique Hotel
4. POSTBERG AND WEST COAST NATIONAL PARK (LANGEBAAN)
Only open during springtime during the months of August and September, Postberg in West Coast National Park is an almost completely undisturbed floral landscape.
Floral expectations: Magriets, Daisies, and Sporries.
Distance from Cape Town: 130km
Where to sleep: Kraalbaai Luxury Houseboats | Shark Bay Hotel
5. NAMAQUA NATIONAL PARK (NAMAQUALAND)
Namaqualand's vibrant flower fields comprise an estimated 3 500 species of plants, 1 000 of which are found nowhere else in the world. This semi-desert landscape undergoes an amazing transformation during springtime when the entire area is covered in a carpet of colourful wildflowers.
Floral expectations: Small Succulents, Annuals and Bulbs.
Distance from Cape Town: 533km
Where to sleep: Namaqua Flower Camp |Naries Namakwa Retreat (54km from Namaqua National Park)
6. RAMSKOP NATURE RESERVE (CLANWILLIAM)
With the Cederberg Mountains and orange groves as its backdrop, Ramskop Nature Reserve has to be one of the must-visit areas during the spring wildflowers season. Make sure to see the flowers between 11:00 and 15:00 as they close in the afternoon.
Floral expectations: Daisies, Proteas, Sporries, and Sugarbos.
Distance from Cape Town: 230km
Where to sleep: Cederberg Ridge Wilderness Lodge | Bliss and Stars | Bushmans Kloof |
Mount Ceder | Oudrif Strawbale Retreat
7. DARLING RENOSTERVELD RESERVE (DARLING)
A birder's paradise! Darling Renosterveld Reserve is a 20-hectare flowers reserve situated just above Darling Primary School.
Floral expectations: Renosterbos, Kapokbos, Bellendini, and Vygies.
Distance from Cape Town: 77km
Where to sleep: Darling Lodge Guest House
8. CITRUSDAL (CITRUSDAL)
Situated off the N7, Citrusdal is a family-friendly town on the West Coast with a variety of fun activities such as hiking, horseback riding, fishing, camping, rock-climbing, and zip-lining.
Floral expectations: Bloedblom, Maartblom, Daises, and Fynbos
Distance from Cape Town: 176km
Where to sleep: Citrusdal Botanical Retreat | Mount Ceder – Klipbokkop | Waterfall Farm| Piekenierskloof Mountain Resort | Cederberg Park | Wolfkop Nature Reserve
9. TIENIE VERSFELD WILDFLOWER RESERVE (NEAR DARLING)
Situated just off the R27 on the R315, this reserve hosts a wide variety of flowers due to its varying topography. On this small patch of land, around 10% of the Cape Floral Kingdom can be found.
Floral expectations: Lachenalia, Butterfly Lilies, Chincherinchee and Bulbs.
Distance from Cape Town: 90km
Where to sleep: !Khwa ttu Guest House and Bush Camp
10. CONTREBERG (BETWEEN DARLING AND ATLANTIS)
The reserve contains a seasonally wet, Swartland Granite Renosterveld area of approximately 10-hectare with one of the last populations of a critically endangered orchid species called Pteryogodium Cruciform.
Floral expectations: Critically endangered Orchid.
Distance from Cape Town: 63km
Where to sleep: Darling Lodge Guest House | !Khwa ttu Guest House and Bush Camp
ANNUAL SPRING WILDFLOWERS SEASON SHOWS AND EVENTS (EVENT DATES MAY CHANGE)
Langebaan Postberg Nature Reserve Opens (1st August) Tel: 022 772 2144
Hopefield Fynbos Show (24th – 19th Aug) Tel: 022 723 1720
Clanwilliam Flower Show (27th Aug – 5th Sep) Tel: 027 482 2024
Langebaan Feathers, Flowers, and Fossil Weekend (Month of August) Tel: 022 783 0385
Darling Duckitt Nurseries Orchid Show (07th Aug – 06th Nov) Tel: 022 492 2606
Darling Wildflower Show (Aug – Sept) Tel: 022 492 3361
Maps of the coastal and inland flower routes are available from tourism information offices in the various towns.
DISCLAIMER
This article contains affiliate links. I may receive compensation if you make a booking through the links on this blog post but it won't cost you anything extra.
IMPORTANT UPDATE
Some businesses may revise their operating hours and menus due to the season and COVID-19 pandemic. Other businesses may close, either temporarily or permanently without notice. Please check their websites for updates and book well in advance.
BLOG POST UPDATES
I update my blog posts regularly to make sure that links are up to date and spelling is correct. Let me know if you notice anything that needs to be updated in this blog post.
Planning a trip to the Cape West Coast or anywhere around the Western Cape? Book flights and browse accommodation or hire a car now to get the best rates. Alternatively, contact me at tebogo@westerncapeexpereinces.com and I will help you plan your adventure.
For inspiration and insider tips, follow me on Instagram or Twitter. Remember to subscribe to my blog to receive the best Western Cape insider tips and information, discount information delivered directly to your mailbox. Copyright © Western Cape Experiences – No words or photographs on this site may be used without permission from www.westerncapeexperiences.com
You May Also Like
August 21, 2021
January 9, 2022
May 30, 2021