18 SECLUDED SMALL TOWNS IN THE WESTERN CAPE TO VISIT IN 2021
18 SECLUDED SMALL TOWNS IN THE WESTERN CAPE TO VISIT IN 2021
I have never thought that in my lifetime I will experience a time where borders would be closed for international travel due to a world-wide pandemic or having anxiety about catching a deadly virus when I think about visiting other countries.
Unfortunately, this is the reality we all find ourselves in but our love for travel will not just miraculously stop because borders are closed or we are in the middle of the pandemic. Being on the move especially on road trips keeps me alive, happy and my content creation desires on a high.
I believe this pandemic also created a new opportunity for both the local tourism industry and local travellers. South Africans have always travelled abroad because local tourism prices "did not" cater to the local market. The great news is that most companies within the tourism and hospitality sector have relooked at their pricing strategies to accommodate the growing local market and now people have started to explore our beautiful country again which is great for local tourism. People are starting to realise that our country has so much to offer especially the small towns we never hear about or those ones we normally pass or pass through on our way to popular towns.
To help you travel safely around the Western Cape and still maintain social distance, I have compiled a list of beautiful secluded small towns and farms you can visit in 2021. I have visited every town in this list and experienced tour activities and accommodation establishments I recommended to ensure that my advice is based on first-hand experience and that every supplier is tried-and-tested, registered, and uses only the best qualified Tour Guides and operators and the area is safe for anyone to visit.
I have negotiated some discounts on your behalf with some of the accommodation establishments and activities suppliers.
1. ST HELENA BAY
St Helena Bay has to be one of my top favourite seaside small towns in the Western Cape. I enjoy the outdoor lifestyle, I love nature and sometimes I prefer the quietness away from the city buzz. This coastal holiday destination with an unspoiled coastline and picturesque sea views offers me all three.
Looking over St. Helena Bay lies Cape St Martin Private Nature reserve where you can watch the amazing sunrise and sunset over the sea. The actual bay of St Helena stretches from Dwarskersbos in the north, past Shelley Point Peninsula, to Cape St Martin in the west, traversing a total of 18 bays each with its own unique attractions.
LOOK OUT FOR:
Three gorgeous beaches surrounding the peninsula of Shelley Point, each with its own unique characteristics. Tucked away on the northern side is the protected Shelley Bay Beach, named for the fusion of sand, beach pebbles, and shells. On the western side is Britannia Bay Beach, an unspoiled 5km stretch of white sand, and Stompneus Bay Beach on the eastern side is characterised by little coves of alternating rock and sand.
Whales and Heaviside dolphins, a rare species of dolphin only found off the coast of Namibia and South Africa's West Coast can be spotted here too.
For accommodation with a private beach book at Shelley Point Hotel or Oystercatcher Lodge on Shelley Bay side or The Tin Shack on the hill to enjoy views of Stompneus Bay.
ACTIVITIES IN SHELLEY POINT
1. COASTAL DRIVE
Enjoy a scenic coastal drive around the bay with an open game-driving vehicle. The drive starts and ends at The Shelley Point Hotel.
The total duration varies anything from 2.5 hours to about 4 hours – depending on the time available to guests. This activity is only for guests booked at Shelley Point Hotel. Book directly with Shelley Point Hotel at +27 22 742 1065 or by e-mail reservations@shelleypointhotel.com / info@shelleypointhotel.com
2. ENJOY A GUIDED SEA KAYAK TOUR
Explore the calm water of St. Helena Bay and the bays surrounding Shelley Point on a guided Sea Kayak tour. There is an opportunity to see wonderful wildlife such as dolphins, seals, penguins, whales (seasonal), sunfish, and occasionally otters in their natural environment. For rates, availability and bookings contact spkayak@yahoo.com or +27 82 805 5363.
3. HORSE RIDING EXPERIENCE
Explore the beauty of the West Coast's white sandy beaches on a horseback. Price is R400.00 per person and booking is essential. Book directly with the hotel at +27 22 742 1065 or by e-mail reservations@shelleypointhotel.com / info@shelleypointhotel.com
4. PLAY GOLF ON 9-HOLE LINKS GOLF COURSE
A challenging 9-hole links golf course winds its way through the lush peninsula. Splendid homes blend seamlessly into the environment, well-manicured gardens, fairways, and green belts all add to an unprecedented day out.
Rates start from R160 – R320. For availability and bookings please contact the Shelley Point Golf Club at 022 742 1037
5. EXPLORE SHELLEY POINT PENINSULA, HIKE AND CYCLE
You can bring your own bicycle or rent one from the hotel and enjoy trails and gravel roads in the surrounding hills. You can also explore Shelley Point Peninsula to enjoy the beauty of three natural bays and sandy white beaches. Enquire directly with the hotel at +27 22 742 1065 or by e-mail reservations@shelleypointhotel.com / info@shelleypointhotel.com
2. PATERNOSTER
Paternoster is a small, quaint, and picturesque seaside fishing town situated about 150km from Cape Town city and 15km from Vredenburg on the West Coast.
Nestled between Saldanha Bay and St Helena Bay, Paternoster is now a sought-after tourist destination known for its remarkable coastline of jagged cliffs and white boulders, amazing sunsets, warm-hearted people, freshly caught fish, and crayfish, scattered old colourful fishing boats, unspoiled white sandy beach, and the traditional white-washed fishermen's cottages.
Only 4km from Paternoster is Cape Columbine, a nature reserve that boasts one of the last manned Lighthouses (built 1936) in South Africa. Here you will also find the popular Tietiesbaai lagoon which has many picnic spots and an overnight camping area.
FUN THINGS ABOUT PATERNOSTER:
1. The panty bar at the Paternoster hotel – Located at The Paternoster Hotel, this unique and famous Pub, worldwide known as the Panty Bar, once served as a jail. Yes, there are many panties hanging from the ceiling collected from honeymooners.
2. Paternoster brewery – Paternoster has its own beer, Paternoster Pilsner. The brewery also offers food and tasting experiences from their restaurant.
3. Beach horseback riding – Ride a horse along the beach. Drikus offers 1h15min daily rides for beginners and well-experienced riders.
4. Kayak Paternoster – Paddle out between the rocks to see visiting seabirds, penguins, and Paternoster from a different angle with an experienced guide. Other water activities include kite surfing, snorkeling, scuba diving, kite flying, hiking, and for the brave – swimming in the cold West Coast water.
5. Marine wildlife – Spotting dolphins, seals, birds, and whales (in season – July to October) is also a popular activity in the bay.
6. Electric bike tours – WOW eBikes is a vibrant and dynamic tour company offering electric bike tours to Columbine Nature Reserve including Tittiesbaai and Paternoster beach.
ACCOMMODATION IN PATERNOSTER:
There is plenty of accommodation in the area from B&B, apartments, holiday homes, guest houses, cottages, and hotels. Check out Gonana Guest House if you would like accommodation with easy access to the beach – Just a few steps away.
Strandloper Ocean Boutique Hotel (For those with luxury taste), and Paternoster Lodge, Paternoster Villas, Paternoster Dunes Boutique Guest House are worth checking out too.
RESTAURANTS IN PATERNOSTER:
For authentic fish and chips or fish burgers, look for ON THE ROCKS CAFÉ next to the main beach. For crayfish, go to The Paternoster Crayfish Wharf situated on the grounds of a working fish factory, Paternoster Vissery. Other popular restaurants are Noisy Oyster Paternoster, Paternoster Lodge Restaurant, Gaaitjie, and Wolfgat. Wolfgat needs to be booked months in advance because of its international popularity.
Remember to take a walk around the area and to support local businesses such as art galleries, pottery studios, glass studio, food stalls, and stores.
3. LANGEBAAN
Langebaan is a coastal town on the West Coast, located just 120km from Cape Town. There were two things that made me decide to get inside my car and drive to this place, Club Mykonos Resort and Langebaan Lagoon inside the West Coast National Park.
It's amazing how much I've learned about this town and the two main things that made me fall in love with it are now just part of many things I love about Langebaan.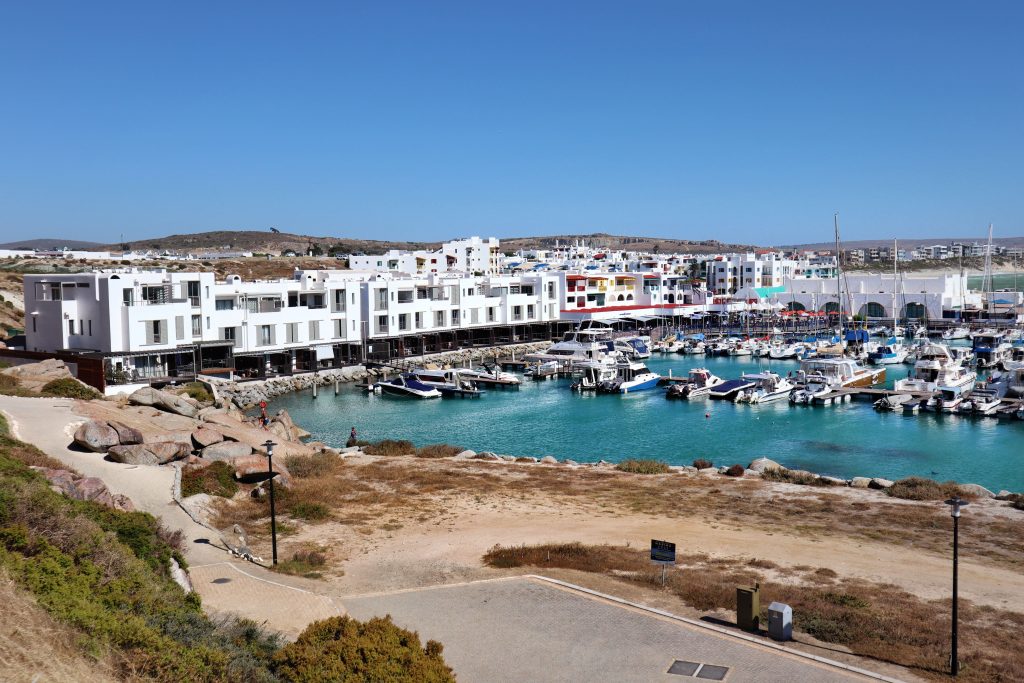 THINGS TO DO IN AND AROUND LANGEBAAN
1. VISIT WEST COAST NATIONAL PARK
West Coast National Park is popular for its bright blue salt lagoon, birdlife, and for spring flowers which occur only between August and September in the Postberg Flower Reserve section of the park. Wildlife inside the park includes small animals such as tortoise, caracal, bat-eared fox, cape gray mongoose, reptiles, and other large animals such as antelope, bontebok, eland, gemsbok, red hartebeest, kudu, steenbok, duiker, ostriches, and mountain zebra in the Postberg section.
2. VISIT POSTBERG FLOWER RESERVE DURING FLOWER SEASON
This is one of the most visited flower hotspots on the West Coast. Even though it's part of the West Coast National Park, the Postberg Flower Reserve is only open during the flower season (August and September). This is to make sure the reserve is as undisturbed as possible until the next season.
3. VISIT CLUB MYKONOS RESORT AND CASINO
My little piece of Greece on the West Coast – At least that's how I felt when I first visited Club Mykonos Resort in Langebaan. Located on the serene shores of the scenic Langebaan Lagoon, Club Mykonos is a family-friendly premium holiday resort offering different types of accommodation, activities, a variety of eateries and facilities.
4. SLEEP AT KRAALBAAI LUXURY HOUSEBOATS INSIDE WEST COAST NATIONAL PARK
Kraalbaai Luxury Houseboats are located on the Langebaan Lagoon inside West Coast National Park. This unique experience offers you the opportunity of "living on the water". With breathtaking lagoon views and all nature has to offer on your doorstep, these houseboats are ideal for a family getaway or even a romantic retreat. For bookings contact +27 760 174788 or bookings@kraalbaailuxuryhouseboats.com
5. VISIT WEST COAST FOSSIL PARK
The West Coast Fossil Park is located on the West Coast, approximately 20km from Club Mykonos Resort and is world-renowned for its exceptionally well-preserved fossil faunal remains that date to the terminal Miocene/early Pliocene (circa 5.2 million years ago).
6. ENJOY A BIG 4 GAME DRIVE AT BUFFELSFONTEIN GAME AND NATURE RESERVE
Buffelsfontein Game and Nature Reserve offers one of the largest selections of wildlife just an hour drive from Cape Town. This 1600ha family-owned reserve is home to 4 of the big five (Lion, Buffalo, Rhino, and Leopard), Cheetah, Giraffe, Zebra, Kudu, Eland, Oryx, Blue Wildebeest, Mountain Reedbuck, Red Hartebeest, and many more.
7. VISIT THALI THALI GAME AND FYNBOS RESERVE
Enjoy game drives, have fun with archery lessons or enjoy sundowners on the deck at Thali Thali Game Lodge. Thali Thali Game Reserve is a 1460ha game and fynbos reserve situated just 120km from Cape Town, bordering the West Coast National Park and Langebaan. This reserve boasts a wide range of game such as cape buffalo, water buffalo, kudu, oryx, giraffe, blue wildebeest, eland, zebra, sable antelope, red hartebeest, springbok, duiker, bontebok, steenbok, ostrich, dromedary camel, and emu.
8. TASTE THE BEST WINES AND CRAFT BEERS IN DARLING
Taste world-famous wines at Darling Cellars and discover the secret to making quality craft beer at Darling Brew in Darling.
9. KAYAK ON THE WEST COAST LAGOON
Gravity Adventures currently has sole rights to operate commercial sea kayaking trips/tours on the Langebaan lagoon in the beautiful West Coast National Park. To book contact them at adventures@gravity.co.za or +27 21 683 3698
10. ENJOY BOAT CRUISE AROUND THE LAGOON
Elite Charters operates from the Club Mykonos Marina and offers private yacht and Catamaran charters. These are conducted mainly around the Langebaan Lagoon, West Coast Nature Reserve, and Club Mykonos. To make a booking call +27 72 702 9919
11. JET SKI ADVENTURE
Elite Wetbikes offers 10km guided Jet Ski experiences from their Jetty at Club Mykonos towards Schaapen Island and back. All riders and passengers must be able to swim and no under 16 allowed to ride on their own. Booking is essential because they are weather bound. To make a booking call +27 72 155 2611
12. MOTORCYCLE TOURS AND HIRE
If you prefer two wheels, open road, and wind on your face then you will have fun touring the West Coast on a motorcycle. On Route Harley Tours offers both self-ride and chauffeured tours. They are located at Agora Square Club inside Club Mykonos. Contact them at onroute@lantic.net or 082 883 2113
13. QUAD BIKING AND PAINTBALL SHOOTING
Active Adventures offers quad biking and paintball experiences inside Club Mykonos Resort. To book contact them at +27 73 255 7003 or grant@woodgenie.co.za
14. KHWA TTU SAN CULTURAL CENTRE
!Khwa ttu strives to restore dignity and cultural pride, navigating a practical path between the old ways and the new world. They offer San guided tours and accommodation services.
4. YZERFONTEIN
Yzerfontein is a quaint and almost untouched seaside town on the West Coast. It's an urban conservancy where man and nature live in harmony. This is also where the famous 16 Mile Beach, the longest uninterrupted beach on the South African coastline is found. This destination gem is situated just over 85km from Cape Town City Centre and within close proximity of Darling, !Khwa ttu San Culture and Educational Centre , and the West Coast National Park. It's the perfect destination choice for a quick getaway.
Yzerfontein is a rather unique destination, not only because of the spectacular seascapes, beautiful seaside holiday homes, wild fynbos, and wildflowers. The entire town is a designated conservancy with raised walkways, well-defined walking paths, and accessible beaches to allow visitors to explore almost every square of this expansive coastline.
THINGS TO DO IN YZERFONTEIN:
1. Eat at Strandkombuis – This is an authentic West Coast seafood buffet restaurant situated on the famous 16 Mile Beach in Yzerfontein.
2. Walk along the 16 Mile Beach, bask under the sun, swim, surf, and kite-surf.
3. Spot a tractor buried on the beach. In 1979 a car got stuck on the beach and the tractor came to its rescue. It pulled the car out successfully but then got stuck itself. It still sometimes reappears depending on how low the tide is.
4. Visit the old harbour to watch boats and jet skis being launched. This place is a hive of activities and an unforgettable experience when the Snoek is in season (Aug – Nov).
5. Go hiking at the Schaapeiland Hiking Trail. This trail skirts the edge of the village of Yzerfontein. It is an easy hike for most people.
6. Learn about the African penguins at Dassen Island. Dassen Island is South Africa's second largest Island after Robben Island and is about 10km west of Yzerfontein and is home to the African penguin. Dassen Island was declared a Nature Reserve in 1987 and is now managed by CapeNature, mainly to protect its seabirds.
7. Shop at Rosemead Artisan Bakery and Patisserie – This bakery is situated at 40 Park Street, Yzerfontein.
For accommodation in Yzerfontein, click here
5. GROTTO BAY
Grotto Bay is a private and gated seaside village inside Grotto Bay Private Nature Reserve on the West Coast. It was declared a nature reserve in 2002 and is located just 45 minutes from Cape Town city. The scenery is amazing but the beach here is not one of the best in the Western Cape, it can be wild and it's rocky. Here you will find the beautiful and undeveloped town with few modern and large houses on the dunes overlooking the desolate beach, but there is enough accommodation to ensure the escape you are after.
If it is nature and quietness you want to experience, then Grotto Bay is easily one of the closest villages to the Mother City in which to do so. You will be surrounded by windswept vistas, fynbos, and a fantastic birdlife that includes the threatened black oystercatcher. There are plenty of hiking trails with an opportunity to spot a steenbok, ostrich, tortoise and duiker, and other small animals.
6. RIEBEEK-KASTEEL
Nestling on the slopes of its own mountain, the dramatic Kasteelberg, the surrounds are wheatlands, vineyards, and olive groves, creating a distinctive touch of the Mediterranean in Africa. Riebeek-Kasteel is one of the oldest towns in South Africa, situated 80 km north-east of Cape Town in The Riebeek Valley.
It's also home to its very own micro-brewery, Flagship Brew; and to Kloovenburg Wine Estate. This latter destination is particularly heavenly, thanks to its luxurious accommodation space, The Pastorie at Kloovenburg; and to its abundance of wine, figs and olives. You can also attend the annual Riebeek Valley Olive Festival in May.
7. MELKBOSSTRAND
Melkbosstrand is known as the "rich man's town" by its neighbouring suburbs and towns, such as Atlantis and Table View. This hidden town is home to a host of South African celebrities including retired rugby players mainly due to its prime location and views of Table Mountain.
Melkbosstrand is the Gateway to the West Coast, Namaqualand, and Namibia, and is rated as one of the safest towns to live in around the Western Cape.
There is a beautiful Lodge in the area called The Lodge at Atlantic Beach, a 4-star lodge situated inside the Atlantic Beach Golf Estate just 1km from Melkbosstrand Beach. The Lodge at Atlantic Beach is located on the outskirts of Melkbosstrand village, a 30-minute drive from Cape Town city.
The Lodge at Atlantic Beach overlooks the 10th fairway of one of Cape Town's Premier Golf Estates, the Atlantic Beach Golf Estate. Guests have access to the golf course, Leisure Centre, and the Elemental Health and Beauty Spa.
Facilities also include two tennis courts, a swimming pool, and a fitness centre.
THINGS TO DO IN AND AROUND MELKBOSSTRAND:
Atlantis dunes are located just 10km from the lodge, which means you can enjoy sandboarding and quad biking on the dunes, beach is just 1km away with few restaurants including my favourite, Damhuis restaurant overlooking the ocean and other chain fast food outlets. You can also go hiking inside the Koeberg Nature Reserve but if you have time, you can spend a day inside the West Coast National Park or drive to Club Mykonos, Paternoster, or Khwa ttu. Other activities include paintball, horse riding, surfing, Grotto Bay trails, Air Force Museum, and The Farmyard Farm Stall.
Remember to mention discount code PINPIN to receive 10% off your booking when you book at The Lodge at Atlantic Beach.
8. BOT RIVER
The small, picturesque town of Bot River (Botrivier) lies in the foothills of the Houw Hoek Mountains, en-route to Hermanus, the whale capital of the world. The Bot River was known by the Khoi-Khoi people as the 'Gouga' (meaning "abundance of fat"), a tribute to the area's reputation for "lots of butter", which the early settlers came in search of to barter for. It was this creamy "botter" (Afrikaans) that gave the "Bot River" its ultimate name.
You can still get fresh farm butter in Bot River, but there's a lot more you can experience in the valley today such as hiking, swimming in the dam, and cycling down the Van der Stel Pass. Instead of just passing by on your next trip to Hermanus, pay this farming community a visit. Here are a few things I enjoy while I am in the area:  
1. SEE BOT RIVER ON HORSEBACK WITH KLEIN PARADYS EQUESTRIAN CENTRE
Enjoy one of the exciting scenic trail rides in the beautiful Overberg offered by Klein Paradys Equestrian Centre. They offer a wide variety of different rides – tailored to suit individual abilities and requirements. They would be happy to accommodate any special requests you might have. With 17-years of experience in the business, they know the Overberg region and all it has to offer the adventurous rider. Their horses are all hand-picked for suitability and then well trained, so they are a pleasure to ride 
For bookings contact Sue at suek@appletiser.net or +27 28 284 9422 and mention discount code PINPIN to receive 10% off your booking.
2. TASTE WINES FROM THE REGION'S OLDEST WINE CELLAR AT BEAUMONT WINES
Compagnes Drift Farm was once the 18th-century outpost for the Dutch East India Company. It is now home to Beaumont Wines, a family-run farm and winery where old-fashioned values remain in high regard. Vines were planted and the cellar with its antique machinery was revived in the 1970's and today Beaumont Wines produce a range of well-respected artisanal wines.
For bookings contact info@beaumont.co.za, or +27 28 284 9194 or www.beaumont.co.za
3. ZIPLINE AT CAPE CANOPY TOURS
Enjoy a four and half hour zipline canopy tour in the company of soaring eagles surrounded by breathtaking Cape fynbos panoramas and mountainscapes only a 30-minute drive from Bot River. Situated in the Hottentots Holland Nature Reserve, Cape Canopy Tours has partnered with CapeNature to take you into a previously inaccessible and pristine part of this amazing World Heritage Site.
For bookings contact zipline@capecanopytour.co.za or +27 21 3000 501 and mention discount code PINPIN to receive 10% off your booking.
4. SLEEP AT COPIA ECO CABIN
The trophy goes to this amazing cabin-living accommodation, Copia Eco Cabins. Situated on a working farm in the Bot River Valley, about a 90-minute drive from Cape Town, the property has converted old shipping containers into eco-friendly, self-catering accommodation units. There are three cabins on the farm to choose from, Copia, Lone Tree, and Waterval. 
For bookings contact Lucas Steyn at info@copiaecocabis.co.za or +27 82 776 0278.
5. SLEEP AT KOLKOL MOUNTAIN LODGE
Surrounded by mountains, fynbos, and flowers, the Canadian-style log cabins at KolKol Mountain Lodge on the Van der Stel Pass make for a perfect romantic hideaway or a weekend away with friends and family. The cabins have a unique plunge pool that is heated up using a wood-fired stove. This property consists of two types of accommodation, Fynbos Pods, and Mountain Lodge.
For bookings contact Rudi & Karen Oosthuyse at info@kolkol.co.za or +27 76 9136014.
9. BETTY'S BAY
Betty's Bay is a small holiday town situated in the Overberg region and it stretches over 13km along the coast. It is located about 100km from Cape Town beneath the Kogelberg Mountains on the scenic R44 route (Clarence Drive) between Pringle Bay and Kleinmond.
Clarence Drive is one of the most stunning coastal drives in the world. It's as exciting as the famous Chapman's Peak Drive but without the cost of the toll gate.
When you arrive in Betty's Bay you will find the Harold Porter National Botanical Garden as well as an African Penguin Colony in the Betty's Bay Marine Protected Area. Here are few things you can enjoy in Betty's Bay:
1. SANDBOARDING
Strap both feet to a single board and soar down one of the best sandboarding dunes in Africa. The highest dune is approximately 230 metres and accommodates every level of expertise. Beginners can easily slide down the dune sitting on the board until they get their balance to stand up and gain momentum. This activity is offered by Outdoor Adventures in Betty's Bay. Remember to mention discount code PINPIN to receive 10% off your booking.
2. HAROLD PORTER BOTANICAL GARDEN
The Harold Porter Botanical Gardens can be found within the Kogelberg Biosphere Reserve. As you enter the gates you will find 10 hectares of cultivated gardens, most likely with baboons frolicking in between the neatly trimmed shrubs. Then there are 190.5 hectares of natural coastal fynbos that include iridescent waterfalls, amber pools, deep gorges, forests, and dunes adjacent to the beach.
3. STONY POINT PENGUINS
Western Cape has the only two shore-based African Penguin colonies in South Africa, Boulders Beach, and Stony Point. The best time to visit these cute birds is in the morning or late in the afternoon because they are usually out at sea to find food during the day.
Due to their decline in recent years due to various adverse conditions the area is now protected and visitors are only permitted to walk along a wooden pathway that curves through the colony. The entrance fee is R25 per adult and R15 per child.
4. BEACHES
The coastline along Betty's Bay is mostly made up of rocky outcrops that are met by crashing waves, but every now and then the rocks open up and give way to pristine beaches that are perfect for walks, swimming, and surfing. The beaches are empty most of the time and during peak season.
5. HIKING
Blessed with a spectacular natural setting of the mountain and the Ocean, Betty's Bay is perfect for a scenic hike. There are a number of trails marked for hikers but even a simple stroll along the coast will offer great views. Harold Porter Botanical Gardens is home to the majority of hikes in Betty's Bay and you can choose between wheelchair-friendly walkways or an ecosystem walk meandering through the cultivated garden, taking short easy walks, exploring indigenous fynbos trails, hiking to waterfalls, and venturing up advanced hikes that are not suitable for the light-hearted.
10. HERMANUS
Hermanus, known as the Whale watching capital of the world, is a popular holiday location with beautiful holiday homes and hotels overlooking the ocean and is famous for southern right land-based and boat whale watching during the southern winter to spring seasons (June – early December).
Located just 120km from Mother City and sitting on the edge of Walker Bay in the Overberg region, this small coastal town offers an array of experiences.
The whales can be seen from the cliffs along the coast from as early as June and they usually depart in early December. Whale watching is not the only exciting thing in Hermanus, other activities shark cage diving in Walker Bay, beach horse riding, zip-lining, and quad biking, sea kayaking, sandy beaches, playing golf at the awe-inspiring 27-hole Hermanus Golf Club, and tasting Pinot Noir, Chardonnay and many more fine wines, comparing craft beers, appreciating gin, exploring art and attending the Annual Whale Festival in September.
When I am in the area, I eat at The Ficks Restaurant, here you will enjoy their fresh and exciting cuisine while relaxing on the wooden decks on the edge of a natural pool overlooking the endless beauty of the ocean and its surroundings. In season, you might even spot some southern right whales.
Please note that the restaurant is completely open air and does not operate during days with rainy weather or extreme winds.
For accommodation, look at these establishments:
Harbour House Hotel bookings@harbourhousehotel.co.za or +27 28 312 1799 and mention discount code PINPIN to receive 10% off your booking.
They have a wide range of properties around Hermanus.
11. GANSBAAI
If you would like to see great white sharks up close and personal, then visit Gansbaai village. Gansbaai is a small seaside fishing village and a popular tourist destination in the Overberg region known for its dense population of great white sharks and as a whale-watching location. The main tourist attraction in this village is cage diving with great white sharks.
Another popular attraction around the area is Klipgat Cave located in the Walker Bay Nature Reserve. Klipgat Cave is one of the most important historical sites in the Western Cape and is open to the public. See more information and rates here.
Other activities in the Walker Bay Nature Reserve and around Gansbaai include whale watching, hiking and walking, bird watching, angling, swimming, 4×4 trails, tidal pools, danger point lighthouse, and more.
For shark cave diving contact info@sharkcagediving.co.za or +27 82 559 6858 and mention discount code PINPIN to receive 10% off your booking.
12. STRUISBAAI AND CAPE AGULHAS
Talk about tranquillity and drama, and the unique allure of Africa that the Map of Africa Monument at Cape Agulhas celebrates. The monument has a circumference of 30 metres and includes the shape of the continent and the design elements of a compass. Its scale is impressive and its design timeless. Walking around this monument is an opportunity to reflect on and embrace how tiny humans are in relation to these two oceans; yet how we co-exist without competition. Cape Agulhas is the title holder of the southernmost point in Africa and the official geographical divide between the Atlantic and Indian Oceans.
Struisbaai holds the title for having the longest sand beach in the Southern Hemisphere at 14km. Located just 5km from Cape Agulhas, this fishing town is also known for its thriving fishing community many of who have been in the industry for generations. It is characterised by its traditional and beautifully preserved thatch roof houses. The multi-coloured boats at Struisbaai Harbour also bring in freshly caught fish nearly every day and they, along with the now resident stingrays, Parrie the Stingray, are delightful attractions of the town.
13. KASSIESBAAI AND ARNISTON
Kassiesbaai in Arniston is a beautiful small and picturesque fishing town rich in history and unique hidden attractions.
Arniston is a small seaside settlement on the coast of the Overberg region, just 2 and a half hours from Cape Town and about 40km from Cape Agulhas, the title holder of the southernmost point in Africa. Some refer to it as The Wreck of Arniston while others call it Waenhuiskrans, an Afrikaans name meaning literally "Wagon house cliff", named after a local popular sea cave, Waenhuiskrans Cave, large enough to accommodate a wagon and a span of oxen.
Kassiesbaai fishing village is characterised by its traditional lime-washed and thatched cottages, and it remains unspoiled till today. The name came about as the residents used the washed-up paraffin cases ("kassies" in Afrikaans) from the shipwrecks to build their houses. The wood from the paraffin cases combined with lime and thatch from the area was used to build the now characteristic cottages of this coastal fishing village.
Kassiesbaai is now declared a national heritage site by Western Cape province. Even today, you can still see fishermen go to sea in their 19th century-shaped boats like their forefathers used to do over 200 years ago.
Another recognisable landmark in this area is the beautiful Arniston Hotel, the crown jewel of the Western Cape. Named after The HMS Arniston Transport, an East Indiaman ship that made eight voyages for the British East India Company (EIC).
Activities, top attractions, and guided tours in this area include Arniston shipwreck, monuments, Kassiesbaai fishing village, harbour and slipway, sand dunes, beaches, a huge cave, beautiful cliffs, and rock formations, huge rocks, 4×4 tracks, nature reserves, old fish traps, bicycle tours, indoor and outdoor children activities, and MORE!
Remember to mention discount code PINPIN to receive 10% off your booking when you book at Arniston Hotel.
14. GREATER SWELLENDAM
I don't remember a day where I have taken a Garden Route road and not stop in Swellendam or surrounding towns for a quick bite and refreshments. I have combined seven towns around Swellendam Farming Community you can visit: Swellendam, Suurbraak, Barrydale, Buffeljagsrivier, Stormsvlei, Cape Infanta and Malgas.
These towns are nestled on the Garden Route just off the N2 between Worcester and Mossel Bay, each offering different rich history and unique character. There is something for everyone in each town, no matter if you're a history buff, sports fanatic, cyclist, adrenaline junkie, birder, wildlife fan, photographer, writer, wine and liqueur lover, foodie or just looking for a family break.
If you find yourself around Infanta, visit De Hoop Nature Reserve, or even better, spend a night or two at Lekkerwater Beach Lodge. For bookings contact Natural Selection at reservations@naturalselection.travel or call +27 21 001 1574.
15. CALITZDORP
Situated on the famous R62 Route and 370km from Cape Town, Calitzdorp is a pure Western Cape gem and is surrounded by three mountain ranges – the Swartberg to the north, the leopard-haunted Rooiberge to the south, and the mountains of the Huisrivierpass to the west with Oudtshoorn, known for its Safari Ostrich Farm just 40 minutes away.
This village also features two well-known wine estates. The first is De Krans, which produces wine under three labels: De Krans, Le Sueur, and Garden Route. The second is Bo Plaas, where you can get award-winning wine, Cape Vintage Reserve, brandy, and a port-style wine (which cannot be called port unless it's made in Portugal).
Calitzdorp is the home of world known quality port-wines. This village has a hot and dry climate making it an ideal location for growing port grape varieties. A number of similarities between the climate of Calitzdorp and the world-renowned Douro Valley in Portugal exist.
17. MONTAGU
Located only 40km from Sanbona Wildlife Reserve, Montagu is a little karoo village famous for its wine farms, Cape Dutch museums, and the remarkable Cogmanskloof Pass. Activities in and around Montagu include tractor trips, bird-watching at Leiwater Dam, nature hikes, mountain walks, game drives, rock art, boat safaris, and more.
My favourite place in this area is Montagu Guano Cave Resort, offering both overnight and day visit options. Click here to view a wide variety of activities inside this resort. Montagu is around 2 and half hour drive from Cape Town on the R62 Route. Last, and unfortunately not as consistent, is the annual Montagu Makiti, happening annually in September.
For some unique glamping accommodation book at Glen Eden Farm located just 7.5km from Montagu Guano Cave Resort or Leopard's kloof Luxury Camp at Wolwehoek Private Reserve just 40km from Montagu for luxury camping. If you don't mind driving as I do, head over to  Karoo 1 for some karoo experience, this hotel is located just under 80km from Montagu.
18. MATJIESFONTEIN
Follow in the footsteps of Cecil John Rhodes, Rudyard Kipling, and Olive Schreiner who visited Matjiesfontein. Conveniently located just off the N1 between Touws River and Lainsburg, approximately 240km from Cape Town, you will Matjiesfontein.
This village was once a British army stronghold during the Anglo-Boer war and boasts a British Army Remount Camp as one of its attractions, and it was declared a National Monument in 1975. There's the Marie Rawdon Museum where various Anglo-Boer War items are on display. This beautiful small town is also a heritage site and offers the Futtom Fluffy bus tour that lasts for 10 minutes (shortest tour in South Africa) and passes dozens of landmarks including the fire station, post office, courthouse, jail, and the transport museum.
Planning a trip anywhere around the Western Cape? Book flights and browse accommodation or hire a car now to get the best rates. The Cape Town City Pass gives you access to over 70 of the top Cape Town attractions, tours, and things to see and do, including the popular hop-on hop-off City Sightseeing bus.
For inspiration and insider tips, follow me on Instagram or Twitter. Remember to subscribe to my blog to receive the best Western Cape insider tips and information, discount information delivered directly to your mailbox.
Copyright © Western Cape Experiences – No words or photographs on this site may be used without permission from www.westerncapeexperiences.com
You May Also Like
March 18, 2021
March 19, 2021
March 23, 2022