14 FUN THINGS TO DO IN LANGEBAAN – LANGEBAAN EXPERIENCES
Langebaan is a coastal town on the West Coast, located just 120km from Cape Town. Langebaan is the home to our little piece of "Greece", Club Mykonos Resort and the popular West Coast Lagoon inside West Coast National Park.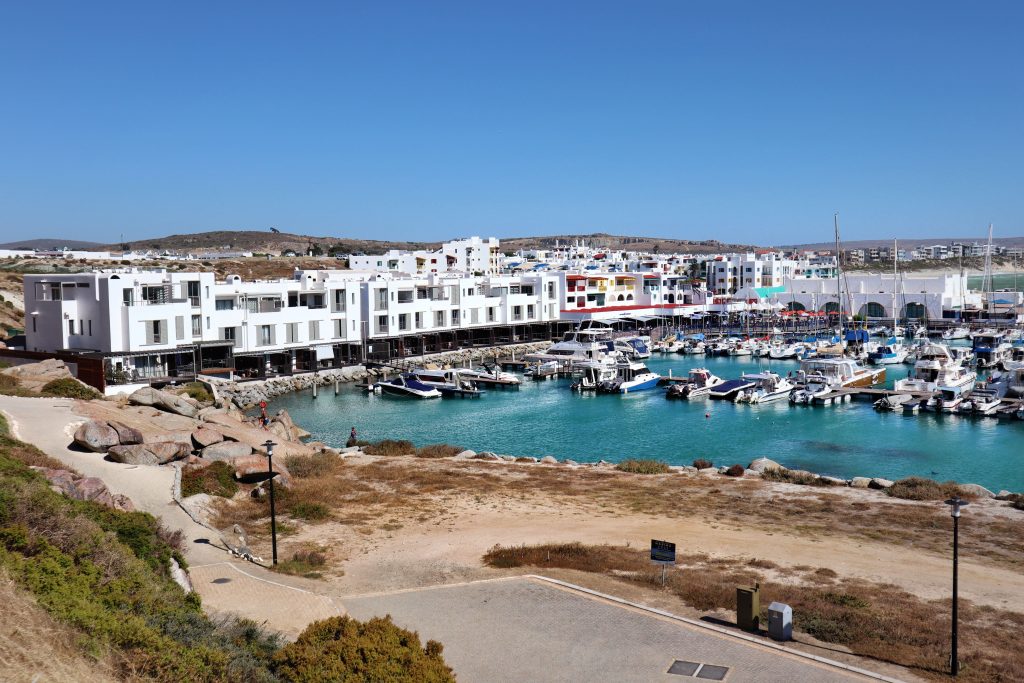 I have compiled a list of 14 fun things you can do around Langebaan:
1. VISIT OR SLEEP AT THE CLUB MYKONOS RESORT AND CASINO
Our little piece of "Greece" on the West Coast – Club Mykonos Resort is located on the serene shores of the spectacular Langebaan Lagoon.
With activities such as boat cruises, skypark, zipline, electric bikes, diving, jetskis, quadbikes, indoor and outdoor swimming pools, fishing charters, outdoor gym, mini golf, spa, restaurants, bars, casino, table tennis, tennis courts, squash, and sailing school, Club Mykonos is a great holiday resort for both day and overnight travellers.
2. DIE STRANDLOPER RESTAURANT
Die Strandloper Restaurant is an open-air seafood boma restaurant next to the ocean in the heart of Langebaan. Seafood is caught fresh and prepared in an open fire. Here, it's all about chilling, relaxing, laughing, and leaving the world behind you while enjoying a mouthwatering 10-course seafood meal.
Their 10-course menu includes mussels, weskus haarders, fish curry, braaied snoek with potatoes and patats, beef and boontjie (bean) bredie, smoked angelfish, linefish, kreef (half kreef per adult), moerkoffie and rooibos tea, koeksisters, roosterkoek, fresh bread, farm butter, and home-made jams.

THINGS TO NOTE:
Restaurant is weather dependent.
Booking is essential for your comfort.
They don't have a card machine, so bring cash or pay via EFT.
You can bring your own alcohol and ice or buy from their beach bar.
RATES:
All guests 12 years and older pay R370.
Children under the age of 5yrs eat for free.
Children aged 5 to 11 years old pay R80 (excludes the half crayfish).
WHERE TO FIND THEM:
From Cape Town take the R27 towards Langebaan. After about 90km, turn left at the Engen Service Station into Oostewal Rd. After 10km, turn right at the second traffic circle. Go over the stop street. Turn left onto their gravel road about 300 metres further on (you'll see their signboards on your left).
Tel: +27 (0)22 77 22 490 / 0832277195
E-mail: info@strandloper.com
Website: www.strandloper.com
3. VISIT WEST COAST NATIONAL PARK
West Coast National Park is popular for its bright turquoise salt lagoon, birdlife, and for spring wildflowers which occur only between the months of August and September in the Postberg Flower Reserve section of the park. The park however, is open to the public on daily basis.
Wildlife inside the park includes small animals such as Tortoise, Caracal, Bat-eared Fox, Cape Gray Mongoose, Reptiles, and other large animals such as Antelope, Bontebok, Eland, Gemsbok, Red Hartebeest, Kudu, Steenbok, Duiker, Ostriches, and Mountain Zebra in the Postberg section. Click here to see what other fun things you can do and see inside the park.
4. VISIT POSTBERG FLOWER RESERVE DURING THE WILDFLOWER SEASON
This is one of the most visited wildflower hotspots on the West Coast. Even though it's part of the West Coast National Park, the Postberg Flower Reserve is only open during the wildflower season (August and September). This is to ensure the reserve is as undisturbed as possible until the next season.
5. VISIT WEST COAST FOSSIL PARK
The West Coast Fossil Park is situated approximately 20km from Club Mykonos Resort and is world-renowned for its exceptionally well-preserved fossil faunal remains that date to the terminal Miocene/early Pliocene (circa 5.2 million years ago). A national and international team of researchers are currently unravelling the fascinating and unique history of fossils from the West Coast Fossil Park and attempting to recreate the environment and climate of the west coast some 5 million years ago. At this time many animals that are now extinct, such as saber-toothed cats, short-necked giraffes, hunting hyenas, and African bears roamed the west coast which then had a more subtropical climate with lush, riverine forests and open grasslands.
6. KHWA TTU SAN CULTURAL CENTRE
!Khwa Ttu strives to restore dignity and cultural pride navigating a practical path between the old ways and the new world. They offer San guided tours and accommodation services.
7. VISIT THALI THALI GAME LODGE
Enjoy a Game Drive, have fun with an archery lesson, enjoy sundowners and delicious food on the deck, or spend a night or two at Thali Thali Game Lodge.
Thali Thali Game Lodge is a 1460ha game and fynbos reserve situated just 120km from Cape Town, bordering the West Coast National Park and Langebaan.
This reserve boasts a wide range of game such as Cape Buffalo, Water Buffalo, Kudu, Oryx, Giraffe, Blue Wildebeest, Eland, Zebra, Sable Antelope, Red Hartebeest, Springbok, Duiker, Bontebok, Steenbok, Ostrich, Dromedary Camel, and Emu.
8. KAYAK ON THE WEST COAST LAGOON
Gravity Adventures currently has sole rights to operate commercial sea kayaking trips/tours on the Langebaan lagoon in the beautiful West Coast National Park.
To book contact them at adventures@gravity.co.za or +27 21 683 3698
9. ENJOY A BOAT CRUISE AROUND THE LANGEBAAN LAGOON
Tropico charters at Club Mykonos offer unforgettable boat cruises and is ideal for private functions, as a teambuilding activity, or as a romantic couple's cruise. These cruises are conducted mainly around the Langebaan Lagoon, West Coast Nature Reserve, and Club Mykonos. For bookings and more information please contact us on 082 898 9517 or info@clubmykonos.co.za / tropico@clubmykonos.co.za
10. ENJOY JET SKI ADVENTURE
Langebaan Jetski offers guided Jet Ski experiences from their Jetty at Club Mykonos towards Schaapen Island and back. All riders and passengers must be able to swim and no persons under the age of 16 years are allowed to ride on their own. Booking is essential because they are weather bound.
To make a booking call +27 72 155 2611
11. QUAD BIKING AND PAINTBALL SHOOTING
Enjoy quad biking and paintball experiences inside Club Mykonos Resort. To book contact Grant on +27 73 255 7003 or send an e-mail to grant@woodgenie.co.za
12. SLEEP AT KRAALBAAI LIFESTYLE HOUSE BOATS INSIDE WEST COAST NATIONAL PARK
Kraalbaai Lifestyle House Boats are situated on the Langebaan Lagoon inside West Coast National Park. This unique experience offers you the opportunity of "living on the water". With breathtaking lagoon views and all nature has to offer on your doorstep, these houseboats are ideal for a family getaway or even a romantic retreat.
For bookings contact +27 760 174788 or bookings@kraalbaailhb.com
13. ENJOY A BIG 4 GAME DRIVE AT BUFFELSFONTEIN GAME AND NATURE RESERVE
Buffelsfontein Game and Nature Reserve offers one of the largest selections of wildlife and is situated just a 30-minute drive from Langebaan. This 1600ha family-owned reserve is home to 4 of the big five (Lion, Buffalo, Rhino, and Leopard), and other species such as Cheetah, Giraffe, Zebra, Kudu, Eland, Oryx, Blue Wildebeest, Mountain Reedbuck, Red Hartebeest, and many more.
14. SKYPARK AND ZIPLINE ADVENTURE INSIDE CLUB MYKONOS
Club Mykonos is home to the very first Skypark in Africa and is the ideal spot for you and your team to boost your adrenaline levels. The Skypark and Zipline obstacle course is 15m high and has 21 platforms on three different levels. There are 36 different hanging obstacles and bridges of varying degrees of difficulty spread across the different levels. The reward waiting on the top level is the first of two big 90m ziplines starting from the top of the Skypark. For more information, please contact us on (022) 707 7275 or skypark@clubmykonos.co.za
For inspiration and insider tips, follow me on Instagram or Twitter. Remember to subscribe to my blog to receive the best Western Cape insider tips and information, discount information delivered directly to your mailbox. Copyright © Western Cape Experiences – No words or photographs on this site may be used without permission from www.westerncapeexperiences.com
DISCLAIMER
This article may contain affiliate links. I may receive compensation if you make a booking through the links on this blog post but it won't cost you anything extra.
BLOG POST UPDATES
I update my blog posts regularly to make sure that links are up to date and spelling is correct. Let me know if you notice anything that needs to be updated in this blog post.
You May Also Like
August 13, 2022
December 21, 2021