FULL DAY SELF-DRIVE CAPE PENINSULA TOUR
SELF-DRIVE CAPE PENINSULA TOUR
Standing on the picturesque Peninsula imagining the expanse of the Ocean that stretches away from you all the way to Antarctica, it's understandable why the Cape Peninsula Tour is easily the most popular tour and one that imprints itself on the minds of many travellers visiting Cape Town.
Cape Peninsula tour is one of the best ways to experience a 360-degree round trip around Mother City and its surroundings. Try rushing it and you will miss out on many exciting things to do and see, but spending too much time at one place will still make you miss more amazing things to do and see along the way. You need to be smart if you really want to fully enjoy this scenic adventure. The question is "How to balance the two – time and adventures?"
Do you join a pre-planned group tour?, Do you pay a tour guide?, Do you drive yourself? Do you ask a local friend to tag along? What are the dangers to look out for? Are you confident enough to drive on Chapman's Peak and still enjoy the views? Are you familiar with the things to do and see along the way? Have you calculated the time to be spent at each stop? Questions are endless and you will have to make a choice at some point, unfortunately. My experience as Western Cape Travel Planner and Host has taught me that people always have different travel needs and different budgets when they plan to visit our beautiful province so, I treat every client differently to make sure that I give them the experience they paid for and sometimes more – every time actually.
I will never recommend for anyone to do a full-day Cape Peninsula tour on their own because it won't make sense. The only thing you would do will be to drive straight from Cape Town, stop at Muizenberg, Boulders Beach to see the Penguins and continue driving until Cape Point and Cape of Good Hope and back to Cape Town via Chapman's Peak. You are going to ask strangers to take you pictures – which most of the time are horrible because shots will be rushed, you will miss out on many exciting things along the way and you will still need to focus one hundred percent on the road when driving on Chapman's Peak Drive – the sun hits you directly on the face when driving back to Cape Town in the afternoon.
However, if you still feel confident enough to drive yourself after reading the above part or can ask a local friend to tag along, here is how you can fully enjoy your Cape Peninsula tour:
PREPARING FOR THE CAPE PENINSULA TOUR
Make sure you hire the smallest vehicle (Group A) for two days from Avis or any local vehicle hire companies well in advance. This will give you the comfort and confidence knowing that you have a roadworthy vehicle available and ready, and can take your own time at each stop – you will be in control of your journey. You will pay between R150 – R350 per day excluding fuel depending on the option you take. Most car rental companies give you free 200km usage per day and an average of R2.75 per kilometre for any excess kilometres with a refundable deposit. A return trip for this tour is just under 200km including all the stops I mentioned below.
Make sure you eat breakfast and bring along enough snacks and water, and remember to take your Identity document with you to qualify for local rates at the Penguin Colony and Cape Point National Park – I have included all fees.
There is also a toll-gate charge of R52 when passing through Chapman's Peak Drive. Those are the only entrance fees you will pay on this trip.
BEGINNING YOUR TOUR
Make sure you leave your accommodation at 09:00 and drive straight to Muizenberg, traffic will be in the opposite direction so you should reach Muizenberg by 09:40 if driving from Cape Town. Be aware there is always traffic getting inside the Muizenberg beach parking area so if you can, park inside a parking lot next to Stoked Backpackers on the Main Road and walk through a small tunnel under the railway (Don't worry it's safe) to Muizenberg beach. This is where you will find the popular colourful beach huts or changing rooms.
For best Instagram pictures, pass the first few huts and walk to the ones on the far side. Take pictures from the back at an angle, you will be able to capture the huts in a long straight line, the ocean, and the mountain in one picture.
You can also take pictures from the front of the huts if you like. This should take you about 30 – 40 minutes to explore this area.
BOULDERS BEACH
When you arrive in Simon's Town, pass the first left turn to the Penguin Colony – it's always full and it's a long walk to the main entrance office. Look for the next left turn (There is a brown signboard marked Penguin Colony) and turn there, continue down and you find a parking lot with security men and you can ask them where the gate to the Penguin Colony is.
It's a few metres walk and this is where Boulder Beach is. Here you can swim with Penguins or take pictures with them. This scenic drive with Ocean on your left from Muizenberg should take you about 20 minutes.
Remember to take your swim clothes, towel and sunscreen with you. You can spend about two hours here.
CAPE POINT NATIONAL PARK
You would have driven through small towns such as Kalk Bay, Fish Hoek, and Simon's Town just to mention a few but now things get a little interesting. Cape Point National Park is the ultimate destination of this trip and the drive might intimidate you but just relax, don't think about any bad things that could happen, and focus on the road. It's an amazing 20-minute scenic drive with mountains on your right and the Ocean on your left. You will see a well-marked sign and a gate to the Cape Point National Park, follow the signs until you get to the main entrance pay gate. Once inside, drive for another 15 minutes until you reach the park's parking lot. Well done, you have arrived.
Buy a single trip Dutch Funicular (Cable Car) ticket to the Light House and walk down when you come back, you will have the best views and take amazing pictures along the way and it's not as tiring as walking up to the Light House. From the top of the Light House, look on your right and you will see stone walkways (They look like balconies), go down there and you will have great pictures too.
Now, walk back to the parking until you reach the popular "Cape Point" sign, you can take a picture there too. You will probably feel tired but excited at the same time when you reach the parking lot.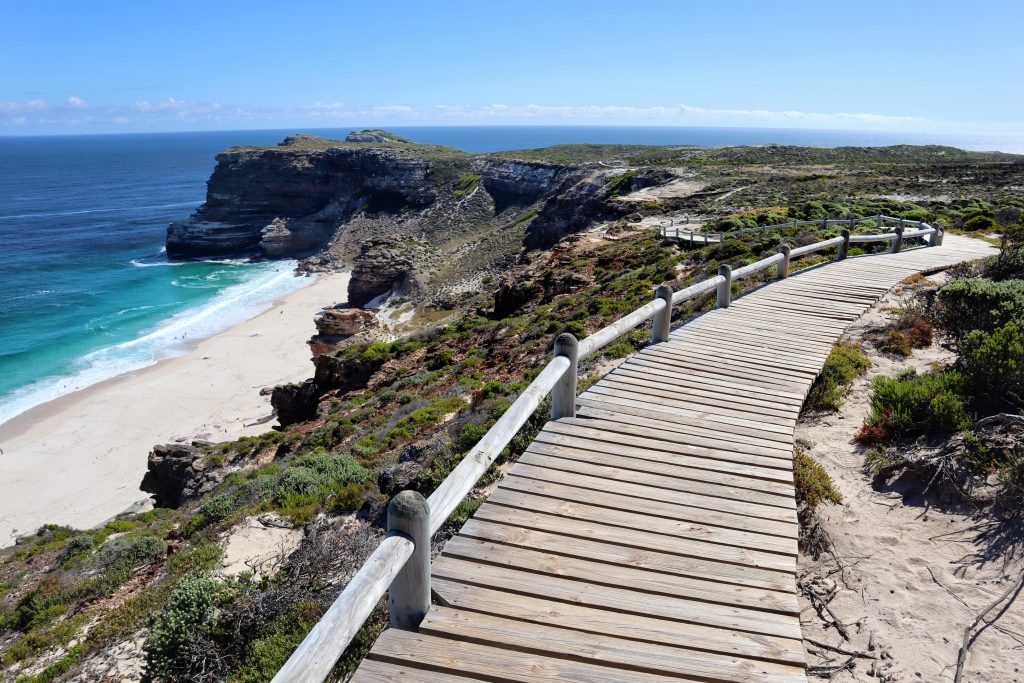 By now you should have seen a sandy beach shaded by giant cliffs at the bottom, that is called Diaz beach. Swimming there is not recommended but you can actually walk there too but you need to be very fit otherwise you would wish they had a helicopter to come and fetch you. It's very easy and fun going down to Diaz Beach with wooden steps but coming up is very tiring.
However, if you just want pictures from the top, follow the wooden pathway until you get closer to Diaz Beach, you will get some amazing pictures from there. When you are done, walk back to the parking lot. You should be hungry by now but fortunately, Two Oceans restaurant (currently closed) is there to make sure your tummy is filled. There is another store inside the park next to Two Oceans restaurant where you can buy snacks and some take-aways.
You are done and ready to go back home right? Wrong! From here, drive down until you see a left turn with a small board written Cape of Good Hope. Follow that road until you reach the parking lot. This is where you will find the popular signboard written "Cape of Good Hope"
CHAPMAN'S PEAK DRIVE
The time should be around 15:45 or 16:00. Leave the park through Simon's Town and follow Noordhoek direction.
Noordhoek is a small farming town with a picturesque long white sandy beach but don't go to the beach – unless if you have booked for a beach horseback riding or don't mind freezing cold water.
Follow the Chapman's Peak Drive signs, views of Noordhoek village and Noordhoek Beach are spectacular from the top. You can stop for few pictures at the top and continue driving on Chapman's Peak Drive enjoying the views of the Atlantic Ocean on your left.
Look out for side parking spots along the way for an opportunity to stop for more pictures. Sunsets are breath-taking from Chapman's Peak Drive too – if you pass the toll-gate then you have passed my favourite sunset spot.
After the sunset, continue driving and pass the toll-gate, go through Hout Bay joining the M6 road, and passing Llandudno, Twelve Apostle, Bakoven, Camps Bay, Clifton, Sea Point all the way to V&A Waterfront and back to Cape Town.
The time should be around 20:00 but don't worry it will still be clear outside if you are doing this during summer days. If you prefer to, you can skip the sunset at Chapman's Peak Drive and enjoy sundowners with an amazing sunset in Camps Bay.
Now be proud of yourself, you successfully completed a 360-degree round trip adventure tour of the Mother City and its surroundings.
Take note I have skipped the best fish and chips restaurant in Kalk Bay, Water Bike rides in Simon's Town, Seal Island boat tour in Hout Bay, Cape Point Vineyards, and Kirstenbosch Botanical Gardens but they can be added too if you cut your time spent at Boulders Beach and Cape Point National Park in half.
ENTRANCE FEES:
CAPE POINT NATIONAL PARK ENTRANCE FEES
R85 adults and R40 children for SA Residents (all you need to bring along is your South African ID)
R170 adults and R85 children for SADC nationals
R340 adults and R170 children for International adults
Tickets for the Flying Dutchman Funicular (Cable Car) cost R80 return for adults (R65 one way), R35 return for children (R25 one way), and R40 for pensioners.
The current park operating times are from 8 am to 4 pm daily and the Funicular from 9 am to 4 pm on weekends.
BOULDERS BEACH (PENGUIN COLONY) ENTRANCE FEES
R40 adults and R20 children for SA Residents (all you need to bring along is your South African ID)
R170 adults and R85 children for foreign guest
R85 adults and R42 children for SADC nationals
The current operating times are from 7 am to 5 pm daily.
THINGS TO DO AND SEE INSIDE THE CAPE POINT NATIONAL PARK
Numerous beaches including the spectacular Diaz Beach
Dozens of amazing viewpoints
Plenty of unique fauna and flora
Ride the Flying Dutchman Funicular up to the viewing point below the old lighthouse.
Discover cultural and historical spots including monuments to explorers such as Vasco da Gama and Bartolomeu Dias
Great swimming spots, picnic sites and walks at the Bordjiesrif and Buffels Bay tidal pools
Photograph the more than 1 100 indigenous plant species that grow nowhere else in the world.
Watch massive whales moving past Cape Point on their annual migration (around June to October)
Over 250 bird species
Spot the Cape mountain zebra and the world's largest antelope, Eland, etc
Walk the shipwreck trail to view a few of the 26 recorded shipwrecks around Cape Point
Hike along a wide variety of scenic and overnight trails through natural fynbos and along sandy beaches
Take part in a range of exciting outdoor activities, such as sea kayaking and mountain biking
CAPE POINT NATIONAL PARK HIGHLIGHTS
The breathtaking views of Clifton and Camps Bay as you head down the Cape Peninsula
A boat ride to Seal Island from Mariner's Wharf
A scenic drive along the world-famous Chapman's Peak Drive
Visit Simon's Town and the endangered African Penguins at the Boulders Penguin Colony
Cape Point and Cape of Good Hope
Take a walk on the Boomslang bridge at the Kirstenbosch Botanical Gardens
A full-day private Cape Peninsula Tour is the perfect way to see lots of the Cape in a short amount of time. If you still think you need an experienced person to guide you on this tour, get in touch with me at tebogo@westerncapeexperiences.com
Planning a trip anywhere around the Western Cape? Book flights and browse accommodation or hire a car now to get the best rates. The Cape Town City Pass gives you access to over 70 of the top Cape Town attractions, tours, and things to see and do, including the popular hop-on hop-off City Sightseeing bus.
For inspiration and insider tips, follow me on Instagram or Twitter. Remember to subscribe to my blog to receive the best Western Cape insider tips and information, discount information delivered directly to your mailbox.
Copyright © Western Cape Experiences – No words or photographs on this site may be used without permission from www.westerncapeexperiences.com
You May Also Like
November 9, 2022
September 7, 2022