THE LUXURIOUS ALL-NEW 2022 KIA SORENTO
The panoramic sunroof on a vehicle is no longer just a style feature, it's a feature that keeps drivers and passengers happier. There is something magical that happens to your mood when you drive a vehicle with a panoramic sunroof. The natural light that comes through the roof makes the cabin feel less claustrophobic and that improves your overall mood and driving experience.
The all-new Kia Sorento is a luxurious all-wheel drive 7-seater family SUV with sophisticated features and technology to help you stay in control on the road and to help you keep yourself and your passengers safe and secure during your journey.
The build quality looks and feels great, it's a practical SUV, easy to drive around the city even though it looks long, comfortable enough to drive on long distance road trips, capable of tackling different terrains, and has a large boot space.
Kia's combination of on-road sophistication and off-road thrills allowed us to cruise powerfully and with ease around the city and along some of my favourite sandy coastal towns, scenic mountain passes, wine farms, and country roads. The Kia Sorento looks very stylish with a little touch of aggressiveness in any environment.
EXTERIOR STYLING
Irrespective of which angle you look at the new Kia Sorento from, the distinctive runway red (yes, that's the name of this colour) just makes every exterior detail stand out.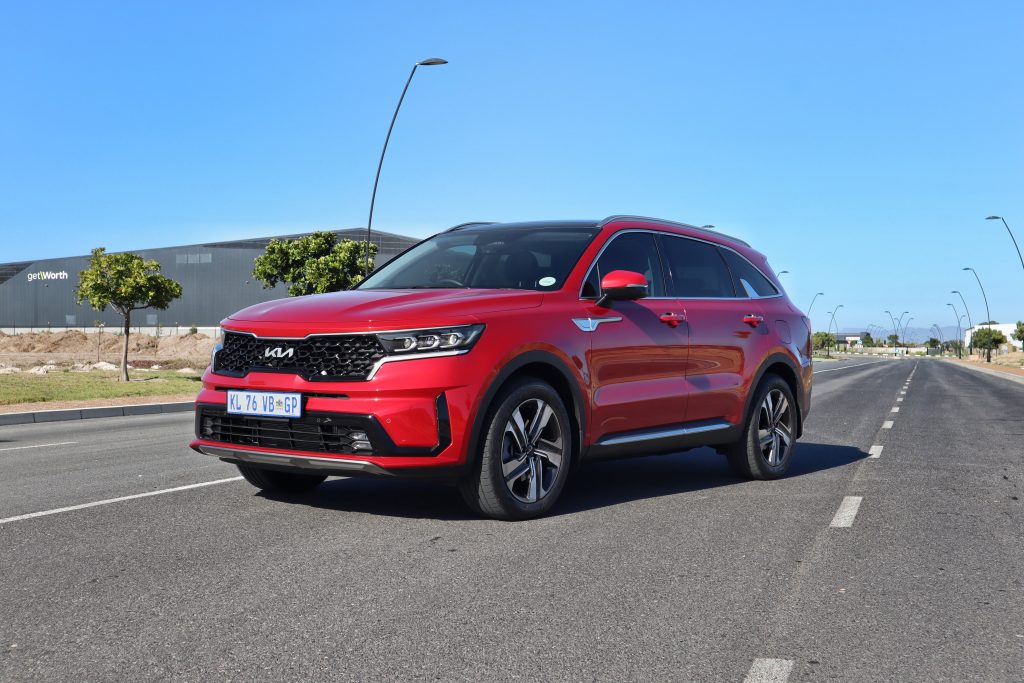 My top spec test model, 2.2 CRDi SXL AWD DCT 7-seater, comes standard with a large panoramic sunroof, colour coded door handles with a touch of satin chrome, colour coded mirrors with a touch of gloss black trim, LED mirror indicators, side sills, day running headlights, split vertical LED taillights, front and rear fog lights, functional brushed aluminium roof rails, shark fin antenna, tow bar, front and rear cameras with 360-degree around view, 19-inch alloy wheels, and wheel arch cladding.
INTERIOR STYLING
When you enter the Sorento, you will be welcomed with quality, comfort, design and style with trims and finishes that create a premium ambiance inside the cabin. For the price you pay for the Kia Sorento, I wouldn't have expected less. 
The large panoramic sunroof is without a doubt a winner and Kia South Africa knew exactly why it had to be fitted! Not only does it adds sophistication and style, it's practical too. The natural light that comes through the roof makes the cabin feel less claustrophobic and that improved my overall mood and driving experience. Also being able to open the sunroof instead of standard car windows proved to produce less wind noise inside the cabin when I was driving and it was more cost-effective than using air conditioning.
There is a 12.3-inch digital instrument cluster that displays different coloured dials depending on which drive mode you have selected. This is accompanied by a high-resolution 10.25-inch touchscreen infotainment system that supports Bluetooth, Apple Carplay, and Android Auto.
Dual auto digital climate control, centrally located rotary gear shift dial that enables effortless gear shifting, brushed aluminium push-button start and paddle shifters, and wireless smartphone charging technology made driving the Kia Sorento effortless with almost every function within reach or just a press of a button away. With 3 USB ports in the front cabin, 4 USB ports in the second row, 2 more USB ports in the third row and 12V socket in the boot, passengers will never fight over charging ports while driving in the Kia Sorento.
Comfortable electronic black ventilated leather seats kept us cool during warm days and warm during chilly mornings and evenings without the need to turn on the heated seats function. The soft comfortable leather continues to the multi-functional steering wheel, dashboard, and parts of the door panels. You have 187L of boot space with the third row up, 616L with the third row down, and 2011 with both third and second rows down.
DRIVING EXPERIENCE
From the moment you sit inside the Kia Sorento and turn on the ignition, you'll discover an array of the latest features and safety technology designed to put you in complete control for any adventures ahead.
One thing I've learned about a new vehicle is that running errands around the city and taking an unplanned road trip or just a drive to a place that you are not familiar with is a great way to get to know a new vehicle and bond with it. This gives you an opportunity to test its practicality, performance, fuel consumption, its capabilities when driving through different terrains, the comfort, cabin room and boot space, and it's a great way to safely test its features on open roads.
The Kia Sorento is powered by a powerful 2.2-litre 4-cylinder turbodiesel Smartstream engine, which produces 148 kW and 440Nm torque and is mated with an 8-speed dual-clutch automatic transmission.
Looking at the size of the Kia Sorento, you might automatically assume that fuel consumption would be poor but that is not the case with this vehicle. The manufacturer claims 7.5L/100 km of fuel consumption and I averaged 6.9L/100 km which is exceptional considering the size of the Kia Sorento. I left the drive mode on Eco most of the time so I did not have to worry about not pressing the accelerator paddle hard or gently braking whenever I approached an intersection or followed another vehicle.
The ride quality is very comfortable with no road noises and the uneven roads were absorbed by Sorento's quality suspension set-up and 19-inch alloy wheels and meaty tyres.
Sorento's automatic transmission offers 4 Drive Modes (DM) selections – COMFORT, ECO, SPORT, and SMART to enhance your driving experience, acceleration, and fuel consumption. With Terrain Modes (TM) selections such as SNOW, MUD, and SAND, you rest assured that you will always be in control of any road challenges ahead. SNOW mode limits wheel slip on icy or snowy roads to enhance stability, MUD mode to help maintain momentum in mud, and SAND mode to prevent wheels from sinking into sand by distributing optimal levels of torque to each wheel.
It was weird in the beginning to select gears using the centrally located rotary gear shift dial however, once I got used to it, selecting gears between reverse, neutral, and drive was effortless, and wished my own vehicle had the same dial. Another thing I liked about it is that it automatically shifted to the parking gear P whenever I forgot to do so after safety parking it..
The new 2.2 CRDi turbodiesel engine sounded a little loud from the outside when idling but reasonably quiet inside the cabin and when the vehicle was moving.
The engine is impressive and the acceleration response felt quick which came in handy every time I needed to execute quick overtaking maneuvers. An 8-speed dual-clutch transmission and steering-wheel shift paddles which have a pleasant feel made changing gears super quick and smooth whenever I wanted to drive the Sorento in manual mode.
FEATURES
Smart entry with push-button start technology – this allows you to unlock the vehicle without using the key fob, the Sorento will unlock itself when you approach it to welcome you while the push-button start technology makes it seamless to start and stop the engine.
Comfortable black ventilated electronic leather seats will keep you cool during warm days and warm during chilly mornings and evenings without the need to switch on the heated seats, and the heated multi-functional leather steering wheel puts entertainment and driving features in the palm of your hands while the digital heads-up display helps you focus on the road ahead. A heads-up display is a function that turns the driver section of the windscreen into a small digital screen that displays your speedometer, cruise control functions, and other driving information.
Thank goodness for the universal wireless smartphone charger, I didn't have to fiddle with a charging cable every time I needed to charge my phone while driving. A High-resolution 10.25-inch touchscreen infotainment system that supports Bluetooth, Apple Carplay, and Android Auto with BOSE sound system kept us entertained during our journey.
Sorento's safety features include 6 airbags (driver and passenger, side, and curtain), Adaptive Cruise Control – This feature allows the Sorento to safely slow itself down when there is another vehicle in front of it and accelerates itself to the set cruise speed limit when the road ahead clears and it is safe to do so.
With the Lane Keep Assist (LKA) – A camera at the front of the Sorento monitors lane markings, and if you move out of the lane unintentionally, (LKA) alerts you and even steers you back to your lane.
Blindspot Monitor (BM) alerts you with a bright small triangle in your side mirrors and the heads-up display (when the heads-up display is activated) when there is another vehicle coming – I noticed the system also alerts you when a motorcyclist or pedestrian approaches.
The Blindspot Collision-Avoidance Assist (BCA) on the other hand alerts you with the same bright triangle in your side mirror and on the head-up display (when the heads-up display is activated). Should you start to change lanes while another vehicle is in your blind spot, the Kia Sorento will automatically apply the brakes to avoid a collision, the side mirror and head-up warning symbols will flash, and an audible alert will sound.
Another cool feature and to improve visibility for blind spots, the Sorento uses the side cameras to keep you safe. When you indicate left or right, your instrument cluster turns into an instant camera feed to show the view of the road in your blind spot. Indicate left and it will show you the rear view down your left-hand side, indicate to the right and it will show the right-hand side view. This feature became very handy on freeways and around town when I wanted to change lanes or overtake other vehicles.
There are front and rear parking sensors with front and rear-view cameras and an Around View Monitor (AVM) with a 360-degree camera. The AVM displays the vehicle on the infotainment screen to show you around the vehicle. It's very handy when parking or driving through tight areas.
The Kia Sorento is also fitted with Autonomous Emergency Braking (AEB) system which activates the vehicle's brakes when a potential collision is detected. It works automatically without you actually stepping on the brake pedal.
Forward Collision-Avoidance Assist (FCA) evaluates both camera and radar data from the Sorento. The system analyses information about other vehicles, pedestrians, or cyclists crossing the road to avoid a potential collision with them.
ENGINE, PERFORMANCE, AND FUEL CONSUMPTION
The all-new Kia Sorento is powered by a 2.2-litre 4-cylinder turbodiesel Smartstream engine, which produces 148 kW and 440Nm torque and is mated with an 8-speed dual-clutch automatic transmission. It has an 80L fuel tank with the manufacturer's fuel consumption claim of 7.5L/100 km.
QUICK FACTS
Featured Model: KIA Sorento
Power/Torque: 148Kw @3800 and 440Nm torque
Transmission: 8-speed dual-clutch automatic transmission
Engine: 2.2 CRDi (Diesel)
Wheels and Tyres: 235/55/R19
Fuel Tank Capacity: 80L
Retail Price: From R994 995*
Fuel Consumption (Manufacture's claim): 7.5L /100km
Boot Space: 187L of boot space with the third row up and 616L with the third row down
Warranty: Kia Sorento comes standard with 5-year unlimited kilometres warranty.
COLOURS
Runway Red (Featured model), Clear White, Pearl White, Aurora Black, Essence Brown, Gravity Blue, Mineral Blue, Platinum Graphite, Silky Silver, and Steel Grey.
VERDICT
Don't let the retail price put you off, consider Kia's value proposition for build quality, luxury package, style and design, technology, safety features, practicality, comfort, capability, driving experience, power, space, and fuel efficiency.
With so many features and build quality of the all-new Kia Sorento, it is very difficult to point out the flaws. One thing I would really like to see Kia changing is the cream cloth headliner and cloth sun visors. Sun visors are used almost on every drive and I feel like they are going to get dirty quickly. I would have preferred both the headliner and sun visors to be black or wrapped in leather.
#KiaSorento #SorentoAdventure #GoBoldly #KiaSouthAfrica
Connect with Kia South Africa here:
Instagram: @KiaSouthAfrica
Twitter: @KiaSouthAfrica
Website: www.kia.co.za
DISCLAIMER
This article contains affiliate links. I may receive compensation if you make a booking through the links on this blog post but it won't cost you anything extra.
BLOG POST UPDATES
I update my blog posts regularly to make sure that links are up to date and spelling is correct. Let me know if you notice anything that needs to be updated in this blog post.
Planning a trip to the Cape West Coast or anywhere around the Western Cape? Book flights, browse accommodation, hire a car, or purchase travel insurance. Alternatively, contact me at tebogo@westerncapeexperiences.com and I will help you plan your adventure.
For inspiration and insider tips, follow me on Instagram or Twitter. Remember to subscribe to my blog to receive the best Western Cape insider tips and information, discount information delivered directly to your mailbox. Copyright © Western Cape Experiences – No words or photographs on this site may be used without permission from www.westerncapeexperiences.com
You May Also Like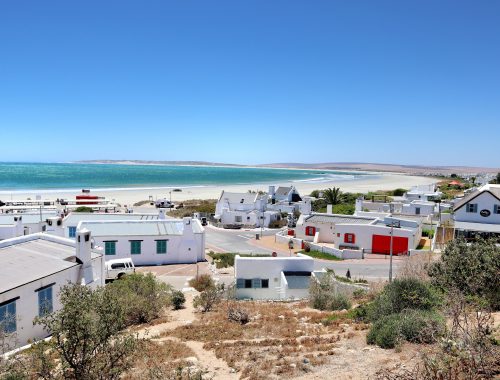 December 19, 2020
July 26, 2021
December 21, 2021