GONANA GUEST HOUSE – VIRTUALLY OFF THE GRID GUEST HOUSE IN PATERNOSTER
April 18, 2021
GONANA GUEST HOUSE – VIRTUALLY OFF THE GRID GUEST HOUSE IN PATERNOSTER
In one of the oldest, iconic, and most beautiful seaside fishing villages on the West Coast, Paternoster, you will find Gonana Guest House near the beach in Bekbaai. Gonana Guest House is a virtually off-the-grid guest house that is completely environmentally ethical and practices what they preach on daily basis to make sure they take care of the environment.
But first, let me tell you a little bit about Paternoster. Paternoster is a small, quaint, and picturesque seaside fishing village situated about 150km from Cape Town and 15km from Vredenburg on the West Coast. Nestled between Saldanha Bay and St Helena Bay, Paternoster is now a sought-after tourist destination known for its remarkable coastline of jagged cliffs and white boulders, traditional white-washed fishermen's cottages, warm-hearted people, fresh seafood, scattered old colourful fishing boats, bustling art scene, unspoiled white sandy beach, and amazing sunsets, and sunrises.
Did you know Paternoster (Pater noster) means "Our Father," in Latin?  This name is believed to have been taken from the sincere prayer said by Catholic Portuguese seamen when they became shipwrecked near a small fishing town we all know today as Paternoster. Other people believe it refers to the beads that the Khoi tribe wore that were called Paternosters. But which one is correct? In my opinion, they are both correct, and let me explain the connection between the two.
In Western Europe, a string of prayer beads was first called "Paternosters". The name refers to the prayer most often used with it, which begins with the words "Our Father, who art in heaven" (in Latin, "Pater noster, qui es in caelis"). Whether you believe the name Paternoster refers to the prayer said by Catholic Portuguese seamen when they became shipwrecked near this village or Paternoster beads worn by the Khoi tribe, you will still be correct.
Gonana Guest House is perfectly built near the white sandy beach in Bekbaai. Gonana Guest House is a virtually off-the-grid guest house that is completely environmentally ethical, and they practice what they preach on daily basis to make sure they take care of the environment. All water used in the guest house is recycled and used in the toilets. All bathrooms have showers only and are fitted with water-saving showerheads to save water. Rainwater is also harvested and stored in collection tanks, to be used for maintaining the water-wise indigenous gardens and to top up the solar-heated swimming pool.
That is not all they do! The owner, Jonas Sandström, a Swedish entrepreneur who came to South Africa over twenty years ago, understands that electricity is a scarce and unpredictable commodity in South Africa so he made sure that all power around the guest house is solar-generated including geysers. Only the stove in the kitchen used by the guest house staff to prepare daily breakfast for guests uses gas. This means you are guaranteed power even during "load-shedding" (temporary power cut) periods. Furniture in the bedrooms was crafted from alien pine by local hands, blankets and towels were handwoven in nearby Barrydale.
Jonas' motto is "Think global, buy local" and he walks the talk. All bathroom amenities are all-natural and locally produced. Gonana Guest House also recycles paper, plastic, glass, and metal.
Living in the city can sometimes make a person feel like they are trapped in a rat race but to keep my body energised, my spirit happy and my brain creative, I take regular road trips to secluded villages around the Western Cape. This past week my destination was Paternoster, one of my favourite seaside villages on the West Coast.
When I arrived at the guest house I was welcomed by the ever-smiling and friendly Thandi. Thandi manages the day-to-day operations of the guest house including preparing breakfast for guests in the morning. The weather was perfect and remained the same the entire time I was there. 25 – 30 degrees to be exact, but the polished concrete floors made my room feel cooler.
The guest house's organic minimalist interior design with a Scandinavian touch brings the outside into the well-sized rooms. A comfortable mattress and high-quality sheets made me feel like I was sleeping in my own cloud every night.
Gonana Guest House is built perfectly next to the beach and that made it convenient for me every time I wanted to go to the beach for my morning walks or sunset walks.
The Bay is on the Atlantic Ocean side and that means the water is chilly, so I only dipped my toes. This part of Paternoster is not popular and that makes Gonana Guest House feel like it has its own private beach just a few steps from the small gate because there are always few people at the beach. Originally a family home called "Whalesong", this house has been completely transformed into a cosy home away from home with unrestricted views of the ocean to be enjoyed by anyone who wants to escape the city buzz and experience seaside living.
All sea-facing rooms were fully occupied when I booked and I had to settle for an en-suite Queen room on the ground floor with a sea view only from its terrace. The bed had an extra-long, wide, and comfortable mattress. A working station, digital safe, heater, standing fan, hairdryer, extra blanket, and high speed Wi-Fi are standard in all the rooms.
After two nights I extended my stay with an extra night and was moved to a triple room on the top floor. Sea-facing rooms were still occupied. The triple room has a balcony with a table and chairs overlooking the swimming pool, Queen size bed, and a chill couch. Each of the eight rooms (six double rooms, one triple room, and one studio apartment) has been carefully designed to promote a sense of calm, tranquillity, and comfort. Seven rooms have their own private outdoor sitting areas, perfect for morning coffee or sundowners.
One area that stole my heart is the lounge on the top floor and this is where I spent most of my time reading books provided by the guest house, playing board games, cards, taking pictures, watching sunsets, and just relaxing.
This enormous and well-decorated lounge overlooking the sea has high white ceilings, skylights, huge sliding doors, an old wooden communal breakfast table that belonged to the previous owner, a cosy fireplace, and a long balcony ideal for whale watching (in season), watching magical sunsets, and having sundowners.
This lounge area is used for breakfast and this is also where the honesty bar is. Ocean views from this lounge and the sound of waves crashing on the shoreline allow you to think and be creative.
With its helpful and friendly staff members, the owner, Jonas Sandström, and the natural décor inspired by the natural surroundings, Gonana Guest House is the perfect escape for those looking to reset, re-energise and enjoy a wonderful seaside living experience.
There are no TV's at the guest house and this makes it easier to disconnect from the outside world and to relax. Please note that children under the age of 12 years are not allowed and only one room (apartment), is a self-catering unit.
Click here for current rates and to book. You can also take advantage of their current 50% off midweek special running until the 25th of April 2021.
WHERE TO FIND GONANA GUEST HOUSE
42 Sonkwas Road, Bekbaai, Paternoster
Guest House Phone Number: +27 (0)66 194 1105
Reservations : +27 (0)76 719 2538
stay@gonanaguesthouse.com / www.gonanaguesthouse.com
WHERE I ATE LUNCH AND DINNER
Your booking at Gonana Guest House includes a daily breakfast. For lunch and dinner, I went to Voorstrandt Restaurant for fish and chips, Gaaitjie Restaurant for a tuna dish, Leeto Restaurant for prawns, and De See Kat Restaurant for sushi.
The village has a good variety of restaurants and bars. Thandi from Gonana Guest House was very helpful with recommendations and made reservations for me every day.
All are highly recommended but never leave the area without eating at Leeto Restaurant. Booking a table in time is recommended at these restaurants because they are always full. Other popular local restaurants in the area are Wolfgat but you need to reserve seating months in advance because it can only accommodate 20 guests and its known internationally. They offer a unique dining experience showcasing a selection of indigenous ingredients specific to the West Coast coastal locations, Noisy Oyster for seafood, and The Hobnobbery for coffee, cakes, and light bites.
WHERE I WENT TO FOR DRINKS
I used the honesty bar at Gonana Guest House.
If you do not know what an honesty bar is, it's a bar at an establishment that doesn't have a barman or lady. You take alcohol from the bar, write down the items you took and settle your bill on your check-out day. There are plenty of bars on the main road and most restaurants sell alcoholic beverages too.
FUN THINGS TO DO IN PATERNOSTER:
1. VISIT CAPE COLUMBINE NATURE RESERVE
Only 4km from Paternoster is Cape Columbine, a nature reserve that boasts one of the last manned lighthouses (built 1936) in South Africa. If you continue driving past the lighthouse, you will arrive at the popular Tietiesbaai lagoon which has many picnic spots and an overnight camping area.
2. BEACH HORSEBACK RIDING
Ride a horse along the beach. Drikus offers 1h15min daily rides for beginners and well-experienced riders.
+27 (0) 82 748 5596
www.paternosterhorsetrails.co.za/
3. ELECTRIC BIKE TOURS
WOW e-Bikes is a vibrant and dynamic tour company offering electric bike tours to Columbine Nature Reserve including Tittiesbaai and Paternoster beach.
Peter John +27 (0) 82 785 7980
Henry +27 (0) 82 504 5990
1 Kreeftegang, Crayfish Wharf, Paternoster
4. BEACH BUGGY RIDES
Long-time local, Deon van Schalkwyk, is an accredited tour guide with a brimming passion for the West Coast. He'll keep you thoroughly entertained, while on a buggy ride along the sandy coastline.
Cell: 072 402 1829
5. PATERNOSTER BREWERY
Brew your own beer or enjoy a beer or two at Paternoster Brewery. The brewery also offers food and tasting experiences from their restaurant.
2 Seemeeu Crescent, Pelgrimsrest, Paternoster
6. KAYAK PATERNOSTER
Paddle out between the rocks to spot visiting seabirds, penguins, and Paternoster village from a different perspective with an experienced guide.
7. SPOT MARINE WILDLIFE
Spotting dolphins, seals, birds, and whales (in season – July to October) is also a popular activity in the bay.
8. ART SHED
Paternoster is home to a diverse group of artists, potters, and sculptors who create and sell their art at Crayfish Wharf (Paternoster Waterfront) – right at the water's edge.
Remember to take a walk around the main road and beach to support local businesses such as art galleries, pottery studios, glass studio, food stalls, and stores.
Planning a trip anywhere around the Western Cape? Book flights and browse accommodation or hire a car now to get the best rates. The Cape Town City Pass gives you access to over 70 of the top Cape Town attractions, tours, and things to see and do, including the popular hop-on hop-off City Sightseeing bus.
For inspiration and insider tips, follow me on Instagram or Twitter. Remember to subscribe to my blog to receive the best Western Cape insider tips and information, discount information delivered directly to your mailbox. Copyright © Western Cape Experiences – No words or photographs on this site may be used without permission from www.westerncapeexperiences.com
You May Also Like
June 26, 2021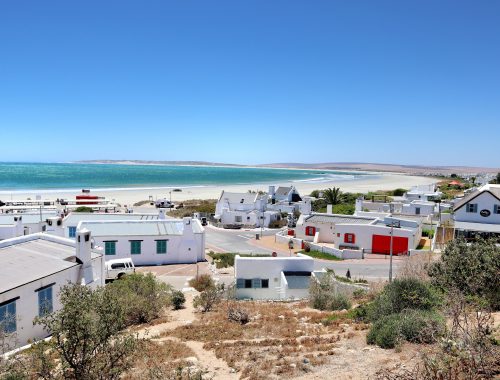 December 19, 2020