FORD EVEREST XLT SPORT 2.0 – FAMILY-ORIENTED SEVEN-SEATER SUV
November 1, 2021
All the shiny exterior chrome is gone and replaced by glossy black details and "Sport" decals! But how does it drive? Does it do what the manufacturer says it does? and is it really a practical family-oriented seven-seven seater SUV great enough for a long road trip?
I am sharing my personal experience and genuine thoughts about the Ford Everest XLT Sport in this article.
With all the comfortable seven seats, plenty of cabin space, amazing features including different driving terrain modes, and luxurious interior finishings, a road trip with a couple of friends was certain and had to be a long one. As a spontaneous individual, most of my personal road trips are never planned too far ahead so when the guys from Ford SA delivered the Everest XLT Sport, a luxurious family-orientated seven-seater Sport Utility Vehicle (SUV), I knew it wasn't going to be long before I was on the road again chasing my next adventure.
Before the trip, my partner and I agreed that we needed at least two more people to ensure that we fully test the Ford Everest XLT Sport for what it is designed for in terms of comfort, space, drivability, reliability, fuel consumption, and safety features and to also make the trip more exciting and memorable.
Fortunately, two of our friends are spontaneous too and are able to work remotely as long as there is internet connectivity. Myself, my partner, and one friend left Cape Town on the same day the vehicle was delivered to embark on a six-day unplanned road trip to the Garden Route with the fourth person joining us in George on the second day because she was flying from Johannesburg.
We didn't know exactly where the trip would take us, what towns we would pass through or sleep at, and what activities we would do but Plettenberg Bay was our ultimate final destination to attend the annual Plett Beer Festival. My plan and mission were to put the Everest XLT Sport through the test on this trip because South Africa's Garden Route 360-degree road trip from Cape Town boasts some of the most breathtaking and challenging Mountain Passes and hills, scorching heat of the Klein Karoo, dirt roads, and long stretches of open tared roads.
From the outside, the Ford Everest XLT Sport has an eye-catching design and surely looks sportier. Even though I did not like the diffused silver colour at first, I must admit that I ended up falling in love with this colour and I think is the best colour option for the Everest XLT Sport. You will easily recognise it with its newly redesigned black mesh front grille and unique 3D bonnet badge.
Other blacked-out exterior features include side mirror caps, door handles, functional roof rails, rear bumper diffuser, front bumper chin, and striking 20-inch black alloy wheels. When you purchase the Everest XLT Sport, you have an option to choose between 4×2 and 4×4 models, with Ford's 2.0-litre single turbo diesel engine delivering 132kW and 420Nm with a 10-speed automatic transmission.
We all had medium-sized travel bags, laptop bags, and backpacks so from Cape Town to Plettenberg Bay I didn't open the third-row seats because our bags occupied most of the boot space and third-row area. When we arrived in Plettenberg Bay, we left our bags at our accommodation and went out to explore the area. This was the perfect chance to test the third-row seats so, I asked my friends to alternate by sitting in both the middle and the third-row seats to test the comfort of each row while I drove to different areas. They said both rows felt comfortable and had enough leg and head rooms. I only sat in the third row when the vehicle was stationary and I sat comfortably too.
One thing I realised is that even though the Everest XLT Sport is a seven-seater vehicle, you should not expect to have seven adult passengers in the vehicle with travel bags if you are going on a long road trip. You will get away with a local day trip, but for a multiple days trip, expect to carry at least four or five people with luggage. In my opinion, the vehicle would be perfect for a couple with three to five children.
On the first day, Everest XLT Sport exterior sporty look, luxurious interior feel, high ground clearance, and driving position made me feel like I was driving the Ford Thunder 2.0 which I reviewed a couple of months ago. I only got reminded that I was driving a different Ford model every time I glanced at the rearview mirror. However, driving it on the second day, I realised I was driving a different vehicle – the Everest XLT Sport is special.
EXTERIOR STYLING
The Ford Everest XLT Sport has a total of 225mm ground clearance which is perfect for off-roading and driving on dirt roads.
It comes standard with side steps to make entering and exiting the vehicle effortless, advanced LED headlamps with daytime running lights, and to give it a sportier exterior look, Ford SA added 'Sport' decals at the base of the rear doors and boot, and blacked-out the mesh front grille, unique 3D Everest bonnet badge, side mirror caps, door handles, functional roof rails, rear bumper diffuser, front bumper chin, and striking 20-inch black alloy wheels with 265/50 20R tyres.
INTERIOR STYLING
When you open the front door, you are welcomed by luxury and more reminders that you are not driving the normal Everest XLT but the sport version of the XLT.
The leather seats, soft leather dashboard, leather multi-functional steering wheel, and both hand brake and gear lever leather covers have distinctive blue stitching.
Front seats have embossed "Sport" wording on them to remind you that you are driving a sporty version of the Everest XLT and the driver seat has eight-way electric adjustment control.
Another notable feature is the SYNC3 infotainment system which offers exceptional connectivity and multimedia options, along with intuitive voice control for ease of use. The system comes standard with embedded navigation and is linked to an integrated eight-inch touch-screen colour display. In addition, SYNC3 offers the benefits of smartphone integration provided through Apple CarPlay or Android Auto.
The Everest XLT Sport has two USB ports and two 12V sockets in front placed conveniently under the auto climate control, one 12V socket in the middle row seats, and one 12V socket in the boot area. Unfortunately, there are no USB ports in the middle and third-row seats and that was an inconvenience for passengers seating on the rear seats whenever they wanted to charge their devices. For added convenience, however, there is a rear aircon and heater with rear console control.
FEATURES
One of the features I liked about the Everest XLT Sport is Passive Entry and Passive Start (PEPS), a keyless entry and passive start system that uses intelligent access to allow me to unlock the vehicle and start the engine without removing the key fob from my pocket. I simply had to press the Start/Stop button while applying the brake pedal to start the car as long as the key fob was in my pocket – talk about convenience.
If you have chosen the 4×4 model, you will have Terrain Management System (TMS) as a standard feature. This feature allows you to easily select the preferred driving mode to suit the terrain you are driving on by simply turning the TMS dial next to the gear lever, ranging from normal mode to rock crawl, snow, mud, grass, and sand.
Other standard features include advanced LED headlights with daytime running lights, multi-functional power steering wheel, electric side mirrors with power fold, power front and rear windows with one-touch up and down, cruise control with adjustable speed limiter, automatic climate control, automatic on/off headlights, and automatic rain sensor wipers.
SAFETY FEATURES
Ford Everest XLT Sport safety features include seven airbags (front, side, curtain, and driver's knees), front and rear parking sensors with a rearview camera, Hill Descent Control (HDC) to help you safely negotiate steep slopes, Hill Launch Assist (HLA), Electronic Stability Programme (ESP) with traction control, Trailer Sway Control (TSC), Roll Over Mitigation (ROM), drive away locking, perimeter anti-theft alarm, engine immobilizer, remote central locking, ABS brakes, and ISOFIX Child Seat Anchorage Points.
ENGINE, PERFORMANCE, AND FUEL CONSUMPTION
The turbocharged 2.0-litre engine delivers 132kW and 420Nm of torque using a 10-speed automatic transmission. I thought the vehicle would feel heavy when driving through Mountain Passes and hills or overtaking other vehicles on the open roads but the Everest XLT Sport proved that it was not only a sport version by decals and looks but by performance too.
The same goes with the 20-inch alloy wheels with less rubber but the ride was surprisingly comfortable and smooth even when driving on dirt roads.
Ford SA claims average fuel consumption of 7.1 to 7.6-litres/100km in urban areas. I managed to clock an average of 8.4-litres/100km around urban areas and 8.9-litres/100km on open roads and I covered just over 1200km on this road trip with moderate usage of the aircon. A single full tank covered just over 850km.
QUICK FACTS
Boot Space: 249 litres
Fuel Tank Capacity: 80-Litres
Power/Torque: 132kW / 420Nm
Transmission: 10-Speed Automatic
Engine: 2.0-Litre Single Turbo Charged
Featured Model: Ford Everest XLT Sport
Retail Price: From R573 600 – R848 600
Fuel Consumption (Manufacturer's claim): 7.1 – 7.6 L/100km
COLOURS
The Ford Everest XLT Sport currently comes in six colours
Sea Grey 
Copper Red
Agate Black
Frozen White

Moondust Silver
Diffused Silver (Featured)
PRICE
The Ford Everest XLT Sport currently retails for R573 700.00 – R848 600. This model is sold with Ford's 4-year/120 000km comprehensive warranty, 3-year/unlimited km roadside assistance, and 5-year/unlimited km corrosion warranty. A 6-year/90 000km service plan is also included for additional peace of mind. Service intervals are 15000 km.
VERDICT
It's really difficult to fault the Everest XLT Sport but one thing I am not impressed with is the lack of USB ports in both the middle and third-row seats. It was an inconvenience when we had to charge our devices especially on a long road trip like the one we had. I also wish Ford SA had added a Forward Collision Alert (FCA) with emergency braking as well as Lane Keeping Alert and Assistance. These two safety features can be very useful especially on long road trips.
Besides that, The Ford Everest XLT Sport looks sporty, drives well, feels comfortable, has a lot of cabin room, performs great on different terrains, the price is just right, and most importantly, fuel consumption is the best for its size. This is definitely the perfect seven-seater family-orientated SUV I would love to have in my garage.
For more information regarding Ford South Africa, its products, prices, and Ford Motor Credit Company, please visit https://www.ford.co.za/ – or follow Ford South Africa on their social media platforms at https://www.facebook.com/FordSouthAfrica, https://twitter.com/FordSouthAfrica
https://www.instagram.com/FordSouthAfrica/ or https://www.youtube.com/FordSouthAfrica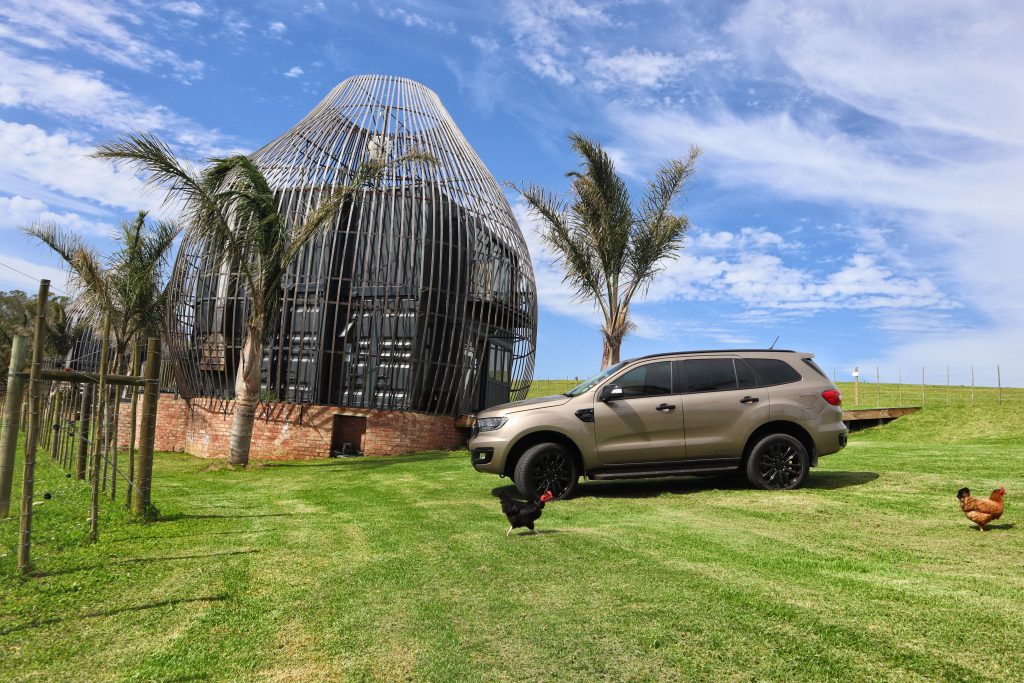 #FordSA #FordSouthAfrica #Ford #FordEverestSport #FordEverestXLTSport #EverestXLTSport #ForeverConquering #EverConquer
DISCLAIMER
This article contains affiliate links. I may receive compensation if you make a booking through the links on this blog post but it won't cost you anything extra.
BLOG POST UPDATES
I update my blog posts regularly to make sure that links are up to date and spelling is correct. Let me know if you notice anything that needs to be updated in this blog post.
Planning a trip to the Cape West Coast or anywhere around the Western Cape? Book flights, browse accommodation, hire a car, or purchase travel insurance. Alternatively, contact me at tebogo@westerncapeexpereinces.com/travel-planning and I will help you plan your adventure.
For inspiration and insider tips, follow me on Instagram or Twitter. Remember to subscribe to my blog to receive the best Western Cape insider tips and information, discount information delivered directly to your mailbox. Copyright © Western Cape Experiences – No words or photographs on this site may be used without permission from www.westerncapeexperiences.com
You May Also Like
October 20, 2021
June 14, 2021
April 18, 2021